Vénus au miroir ou l'énonciateur aux yeux du rapporteur : portraits esquissés par les journalistes du Monde
This paper treats of the visual and vocal portraits of the quoted speakers (énonciateur cité, EC) as they are depicted by the journalists in Le Monde. These portraits can be divided into two groups: in the first one, the speakers are presented without prosopography, and in the second, they emerge from the text through prosopographic elements. The group of speakers without prosopography is itself divided into two sub-groups: notorious speakers or visually anonymous speakers. In the prosopography speakers group, the reporter presents details of the physical appearance of the speaker, but can also describe the proxemic or vocal behaviour of the speaker, which can be near to the vocal ethos or remain at the level of vocal gesture. The speakers (and their speech) are then depicted and classified: some seem to be more reliable and more famous than the others and then seem to have a certain level of power, some seem more trivial, or even more ridiculous and petty.
Cette contribution décrit les portraits visuels et vocaux des énonciateurs cités (désormais EC) esquissés par les journalistes du Monde. Ces portraits se subdivisent en deux groupes : dans le premier, les énonciateurs se retrouvent sans prosopographie et dans le second, ils émergent dans le texte avec les éléments prosopographiques. Parmi les énonciateurs sans prosopographie, il faut encore distinguer deux sous-groupes : les EC notoires et les EC visuellement anonymes. Dans le groupe des EC avec prosopographie, à part les détails de l'apparence physique, le rapporteur peut décrire également la proxémique ainsi que le comportement vocal de l'EC qui peut s'approcher de l'éthos vocal ou rester au niveau de la gestuelle vocale. De la sorte, les EC (et leurs dits) sont caractérisés et hiérarchisés : certains semblent plus fiables et prestigieux que les autres ou plus ou moins puissants, certains autres plutôt familiers ou même ridicules et insignifiants.
Fichier principal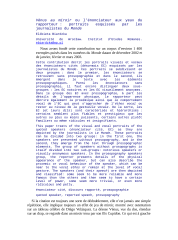 cidit.4.pdf (163.6 Ko)
Télécharger le fichier
Origin : Explicit agreement for this submission