RESINFO propels WAPT into ESR orbit, science in packages!
RESINFO propulse WAPT sur l'orbite ESR, la science en paquets !
WAPT is a software solution developed by the French company Tranquil IT based in Nantes. Through a centralized management console, WAPT allows you to administer a computer park in just a few clicks! It allows you to deploy a wide range of software from a local store with deployment script templates provided by the publisher or from a third-party store, for example a common store for the entire ESR. A RESINFO working group has been orbiting around the WAPT solution as of 2018. We are working to federate actions and knowledge around the WAPT tool, to co-construct and share software deployment recipes. The WAPT-WG [3] proposes a store for the ESR on a secure central repository hosted on the Mathrice (Online Platform for Mathematics) cloud infrastructure. All the entities can thus interconnect their own WAPT software repository with the community solution. Each site will thus have the choice to pick or not Each site will be able to choose whether or not to pick software from this shared store, and to participate in the collective effort of maintaining and adding new software. The creation and monitoring over time of these "scientific" and "office automation" packages for non-exhaustive themes (chemistry, biology, physics, electronics, mechanics, etc.) can thus benefit the entire ESR. These packages can be edited, adapted and redistributed to your structure by adding your licenses and your specific parameters. The central repository can thus manage both open source and proprietary software.
WAPT est une solution logicielle développée par la société française Tranquil IT basée à Nantes. À travers une console de gestion centralisée, WAPT permet d'administrer un parc informatique en seulement quelques clics ! Il donne ainsi la possibilité de déployer une pléiade de logiciels à partir d'un magasin local dont les modèles de scripts de déploiement sont mis à disposition par l'éditeur ou bien à partir d'un magasin tiers, par exemple un magasin commun pour tout l'ESR. Un groupe de travail RESINFO s'est mis en orbite autour de la solution WAPT à partir de 2018. Nous travaillons à fédérer les actions et les connaissances autour de l'outil WAPT, à co-construire et à partager les recettes de déploiement des logiciels. Le GT-WAPT [3] propose un magasin pour l'ESR sur un dépôt central sécurisé hébergé sur l'infrastructure cloud Mathrice (Plateforme en Ligne pour les Mathématiques). L'ensemble des entités peuvent ainsi interconnecter leur propre dépôt logiciel WAPT avec la solution communautaire. Chaque site aura ainsi le choix de piocher ou non les logiciels dans ce magasin partagé, et de participer à l'effort collectif de maintenance et d'ajout de nouveaux logiciels. La création et le suivis dans le temps de ces paquets « scientifiques » et « bureautiques » pour les thématiques non exhaustives (chimie, biologie, physique, électronique, mécanique…) peuvent ainsi profiter à tout l'ESR. Ces paquets sont éditables, adaptables et redistribuables à votre structure via l'ajout de vos licences et de vos paramètres spécifiques. Le magasin central peut ainsi gérer la problématique des logiciels libres et des logiciels propriétaires.
Fichier principal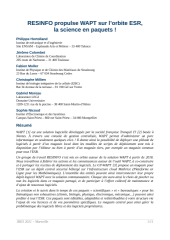 paper81_article_rev1995_20220316_180613.pdf (612.83 Ko)
Télécharger le fichier
poster-jres22-wapt.pdf (1.79 Mo)
Télécharger le fichier
Origin : Files produced by the author(s)
Format : Poster
Licence : CC0 - Public Domain Dedication