Le webdocumentaire : un outil numérique innovant au service de l'enseignement, de la recherche et de la valorisation
Among the multiplicity of digital tools now available to researchers, the Web documentary stands out by the richness of its possible uses. Fundamentally interactive, this medium combining text, pictures, video, sound, and animation allows to broadcast knowledge online in an accessible and participative way. It appears as an excellent tool to present and valorise research work (especially historical work) as well as to hand down its content and results to a large and various public. Being based on a complex architecture with multiple levels of presentation and different ways of access, it offers a complete freedom of navigation to its users and so asserts itself as a valued pedagogical medium. That is what this paper wants to demonstrate by presenting a published historical Web documentary, entitled Alfred Binet. Naissance de la psychologie scientifique, and another one still in progress about the history of psychiatric nursing in Quebec. Starting from these two concrete examples, we aim to show how this new digital tool enables to reinvent pedagogical and scientific perspectives by offering new technical possibilities and by inviting us to think together research, teaching and valorisation.
Parmi la multiplicité des outils numériques aujourd'hui accessibles aux chercheurs, le webdocumentaire se singularise par la richesse de ses usages possibles. Fondamentalement interactif, ce support associant texte, images, vidéo, son et animations permet de diffuser en ligne des savoirs de manière accessible et participative. Il apparaît donc comme un outil de choix tant pour présenter et valoriser le travail de recherche (en particulier historique) que pour en transmettre le contenu et les résultats à un public large et varié. Grâce à son fonctionnement basé sur une architecture complexe faite de multiples niveaux de présentation et différentes voies d'accès, il offre en effet une totale liberté de navigation à ses utilisateurs et s'affirme ainsi comme un support pédagogique de choix. C'est ce que vise à démontrer cet article, qui présente pour ce faire un webdocumentaire historique achevé, intitulé Alfred Binet. Naissance de la psychologie scientifique, et un webdocumentaire en cours d'écriture sur l'histoire du nursing psychiatrique au Québec. À partir de ces deux exemples concrets, il montre comment cet outil numérique nouveau permet aujourd'hui de réinventer les perspectives pédagogiques et scientifiques en nous offrant des possibilités techniques jusqu'alors inédites et surtout en nous invitant à penser ensemble la recherche, l'enseignement et la valorisation.
Fichier principal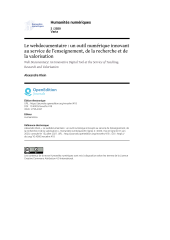 revuehn-418(2).pdf (471.55 Ko)
Télécharger le fichier
Origin : Files produced by the author(s)