Modélisation théorique de l'expérience mimétique et cours d'action : analyse de situations de formation en enseignement, santé, et sport
This article presents a theoretical reflection on the study of processes of learning and development at work in the training environments which intentionally cause trainees to consider other peoples' worlds. These environments are based on videos of real work or on the in-situ observation of simulations and/or supported accompanied practices. They solicit articulation between mimetic, reflexive, projective and play processes. Over the 2011-2020 period, three studies on video-training and/or simulation situations in various professional fields (teachers, midwifes and carriage drivers training) were carried out within the framework of the empirical research program known as the "Course of action" (Theureau, 2004, 2006) or as "enactive cultural anthropology" (Theureau, 2015). Theoretical modelling was developed to account for these silent and complex social mimesis processes (Wulf, 2007) of linking agents' experiences (immersion, imitation, emulation, "acting similarly to", representation, anticipation). This theoretical reduction based on the hexatomy of the course of action unit opens up some methodological paths to both better comprehend the implicit dimensions of physical and sensitive activity, that are very highly active in this relation to the world of others and to better understand the conditions of action performativity (mimesis as a creative remake vs mimesis as a copy of reality).
Cet article présente une réflexion théorique pour étudier les processus d'apprentissagedéveloppement à l'œuvre dans des environnements de formation qui confrontent intentionnellement les formés au monde d'autrui. Ces environnements conçus à partir de films du travail réel ou à partir d'observation en situation de simulation et/ou de pratiques accompagnées sollicitent l'articulation de processus mimétiques, réflexifs, projectifs et ludiques. Au cours de la période 2011-2020, trois études relatives à des situations de vidéoformation et/ou de simulation dans des domaines professionnels différents (formation d'enseignants, de sagesfemmes, de meneurs d'attelage de chevaux) ont été conduites dans le cadre du programme de recherche empirique dit du « Cours d'action » (Theureau, 2004, 2006) ou d'« anthropologie culturelle enactive » (Theureau, 2015). Une modélisation théorique a été développée pour rendre compte de ces processus de mimésis sociale silencieux et complexes (Wulf, 2007) de mises en relation d'expériences vécues par les acteurs (immersion, imitation, émulation, faire le semblable de, représentation, anticipation). Cette réduction théorique basée sur l'hexatomie de l'unité d'action ouvre des pistes méthodologiques à la fois pour mieux saisir les dimensions implicites de l'activité corporelle et sensible très présentes dans ce rapport au monde d'autrui et, en même temps, permet de mieux comprendre les conditions de performativité de l'action (mimésis comme reprise créative vs mimétisme comme copie du réel).
Fichier principal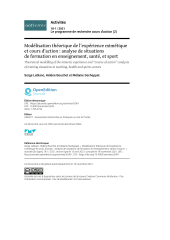 activites-6249.pdf (1.61 Mo)
Télécharger le fichier
Origin : Publisher files allowed on an open archive