Tinqueux « la Haubette » (Marne, France)
The Neolithic site of Tinqueux 'la Haubette' (Marne) dated to the 'Blicquy/Villeneuve-Saint-Germain' (5000-4700 cal. BC) is composed of five houses, further series of pits and the remains of an oven. An abundance of finds has allowed us to explore a number of themes in greater detail. The first concerns the potential singularity of the site due to its very easterly location within the BVSG area of expansion and its place within the broader chronological sequence. The second is the nature of the settlement within the network of 'producer' and 'receiver' sites which characterises the BVSG. The third theme that we focus on is the provenance of raw materials, and the fourth one is the internal settlement chronology. The analyses carried out on the settlement structure and on the archaeological finds reveal hitherto unknown facets of the BVSG culture, like refining the chronological sequence for this period in its regional facies; and establishing a particularly valuable periodisation for the site itself. Comparison with nearby and distant sites has helped us to understand the relationship of this settlement to other contemporary sites. It reveals that the site looked to the east and that there was a strong cultural dynamic which was expressed by varied networks of influence and circulation, particularly for the acquisition of raw materials and finished products.
Le site néolithique de Tinqueux « la Haubette » (Marne) daté du « Blicquy/Villeneuve-Saint-Germain » (5000-4700 cal. BC) a livré cinq maisons, ainsi que des fosses et une structure de combustion. Les éléments de la culture matérielle abondants ont permis d'approfondir différentes problématiques. La première traite de la singularité du site en raison de sa position très orientale dans l'aire d'extension du BVSG et sa place dans la séquence chronologique. Le second sujet porte sur la nature de l'habitat dans le réseau des sites « producteurs » ou « receveurs » qui caractérise le BVSG. Le troisième thème abordé est celui de la provenance des matières premières et le quatrième est celui des caractéristiques chronologiques internes au village. Les analyses menées sur la structuration du village et sur le mobilier archéologique ont permis de révéler un pan encore inconnu de la culture BVSG. Ainsi, la séquence chronologique fine de cette période dans son faciès régional a pu être établie ; comme que la périodisation interne du village. La comparaison avec des sites proches ou éloignés a été déterminante pour comprendre le rapport de cet habitat avec les sites contemporains. Elle révèle une ouverture vers l'est et une forte dynamique culturelle qui se traduit par des réseaux d'influences et de circulations variées, notamment pour l'approvisionnement en matières premières et en produits finis.
Fichier principal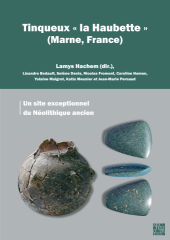 Tinqueux.pdf (28.68 Mo)
Télécharger le fichier
Origin : Publisher files allowed on an open archive