La représentation graphique de narrations de mobilités spatiales, aspects formels, In: Comment cartographier les récits / Mapping Méthodologies
The tradition, already ancient, of the visual representation of spatial mobility based on narratives is renewed. The sensitive turning point in movement mapping appears to be a reaction to a scientific graphic approach considered as too formal. In such a context, we make the hypothesis that the methodological corpus of graphic statistics can constitute an useful knowledge base for the graphical representation of movements, regardless of its mode of collection and thematic, artistic or image-related issues. We propose to formalize possibilities of graphical analysis of spatial mobilities resulting from a life story. This story is understood as a tool for documentation and illustration of a comprehensive approach, in order to understand the graphic representation determinants of movements. The narrative is used within the framework of a (carto)graphic approach that decomposes, before articulating them, different dimensions of a biographical trajectory. The impossibility of continuous representation of time and space on the same view imposes choices as to the spatial and/or temporal components to visualize.
La tradition, déjà ancienne, de représenter visuellement des mobilités spatiales à partir de récits se voit aujourd'hui renouvelée. Le tournant sensible de la cartographie des déplacements semble se positionner en réaction à une approche graphique scientifique jugée trop formelle. Dans ce contexte, nous faisons l'hypothèse que le corpus méthodologique de la statistique graphique peut constituer une base de connaissances utile à la représentation d'une information sur des déplacements et cela, indépendamment de son mode de collecte et de considérations thématiques, artistiques ou liées à la mise en scène de l'image. Nous proposons une formalisation des possibilités d'analyse graphique de mobilités spatiales issues d'une narration mobilisée sous la forme d'un récit de vie. Ce récit est appréhendé comme outil de documentation et d'illustration d'une approche compréhensive des déterminants de la représentation graphique des mobilités. Le récit est exploité dans le cadre d'une approche (carto)graphique qui décompose, avant de les articuler, différentes dimensions d'une trajectoire biographique. L'impossibilité de représentation continue du temps et de l'espace sur une même vue impose des choix quant aux composantes spatiales et/ou temporelles à visualiser.
Fichier principal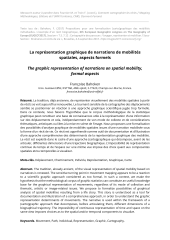 doc00032463.pdf (2.15 Mo)
Télécharger le fichier
Origin : Files produced by the author(s)