« Engaged scholarship » et responsabilité sociétale des enseignants-chercheurs en école de management
Business scholars work in an increasingly complex world facing many major challenges such as health crises, the fight against global warming, poverty and exclusion, the crisis of representativeness. While the social responsibility of the scholars is nowadays well established, the meaning of their engagement is not always unanimous. Debate persists between those who are in favor of the engaged scholarship which is considered useful to organizations and society and the ones who are against it. This contribution is in line with the approach of engaged scholarship developed by Andrew Van De Ven. The objective is to understand complex problems, by integrating others' perspectives in a framework that enables the progress of knowledge for theory and practice. How does the application of engaged scholarship promote the social responsibility of scholars in management vis-à-vis the various stakeholders? To answer this research question, we analyze the relationship between engaged scholarship and scholars' social responsibility from a theoretical point of view, and through a new course carried out at ESC Clermont Business school from an empirical point of view.
Les enseignants-chercheurs en management oeuvrent dans un monde de plus en plus complexe faisant face à de nombreux grands challenges comme les crises sanitaires, la lutte contre le réchauffement climatique, la pauvreté et l'exclusion et la crise de représentativité. Si la reconnaissance de la responsabilité sociétale des enseignantschercheurs est aujourd'hui largement reconnue, le sens même de leur engagement ne fait pas quant à lui l'unanimité. Le débat persiste entre ceux qui sont en faveur d'une recherche engagée utile aux organisations et à la société et ceux qui ne le sont pas. Cette contribution s'inscrit dans l'approche d'engaged scholarship de Van De Ven visant à comprendre des problèmes complexes, en intégrant les perspectives des autres parties prenantes, afin de rendre possible des recherches permettant le progrès des connaissances, au service à la fois de la théorie et de la pratique. Comment dès lors l'application de l'engaged scholarship impulse-t-elle la responsabilité sociétale des enseignantschercheurs en gestion vis-à-vis des diverses parties prenantes ? Afin de répondre à cette question, nous analysons les relations entre l'engaged scholarship et la responsabilité sociétale des enseignants-chercheurs d'un point de vue théorique et au travers du cas d'un enseignement nouveau au sein de l'ESC Clermont d'un point de vue empirique.
Fichier principal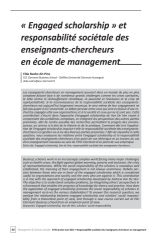 Engaged scholarship.pdf (635.33 Ko)
Télécharger le fichier
Origin : Publisher files allowed on an open archive