The performance of Brassens' songs in a museum setting
La performance museística de las canciones de Brassens
Performer la chanson au musée : l'espace Brassens de Sète
Is the conservation and cultural transmission of sung performances possible after the death of their performer? The findings of our ethnographic survey conducted at the espace Brassens show that it is possible to re-present songs, thanks to the various stratagems contrived by the directors of display and exhi­biting concepts in museums in order to reify the songs. However, this process entails a major transformation both of the status of this cultural output and of the performer who embodies it. The songs are elevated to the status of poems, and Brassens'status also under­goes a change from singer to guide and host-promoter of his area of music. Our observations of the espace Brassens permanent exhi­bition also lead us to conclude that its designers must accommo­date the individual and collective memories that accompany some visitors, which may be ongoing. The strength of the espace Brassens lies precisely in its ability to deal with the cultural attitudes of Bras­sens' fans – or even to favor them – rather than treat them as an inconvenience.
Es posible conservar y transmitir las perfor­mances cantadas una vez que ha desaparecido el intérprete ? La investigación etnográfica realizada en el espace Brassens ha per­mitido demostrar que no es imposible volver a representar las canciones : los creadores de la escenografía museística lo consiguen gracias a diferentes estrategias que permiten figurar la canción. Pero este proceso se obtiene en detrimento de una importante transformación del estatus de dicha producción cultural y de quien la encarna. Las canciones se convierten en poemas y Brassens pasa de cantante a guía y anfitrión-promotor de su territorio. Las observaciones hechas en la exposición permanente muestran igualmente que sus creadores tienen que alcanzar un equilibrio con la memoria individual y colectiva aportada por algunos visi­tantes y que, en lo que respecta a la canción, puede ser rema­nente. La fuerza del espace Brassens consiste, precisamente, en contar con las actitudes culturales de los aficionados (llegando incluso a promoverlas) en lugar de considerarlas como molestas.
Est, possible de conserver et de transmettre les performances chantées une fois leur interprète disparu ? L'en­quête ethnographique que nous avons menée au sein de l'espace Brassens a permis de montrer qu'il n'est pas impossible de re­présenter les chansons : les concepteurs de la scénographie muséale y parviennent grâce à différents stratagèmes qui per­mettent de réifier la chanson. Mais ce processus se fait au prix d'une transformation lourde du statut de cette production cultu­relle et de celui qui l'incarne. Les chansons sont élevées au rang de poèmes et Brassens passe du statut de chanteur à celui de guide et d'hôte-promoteur de son territoire. Les observations menées dans l'exposition permanente montrent également que ses concepteurs doivent composer avec la mémoire individuelle et collective que portent avec eux certains visiteurs et qui, dans le cas de la chanson, peut se révéler de nature rémanente. La force de l'espace Brassens consiste précisément à faire avec les attitudes cultuelles des amateurs – voire à les favoriser – plutôt que de les considérer comme encombrantes.
Fichier principal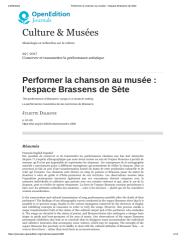 Performer la chanson au musée _ l'espace Brassens de Sète.pdf (373.16 Ko)
Télécharger le fichier
Origin : Explicit agreement for this submission