Enjeux éthiques des emprises olfactives et infraolfactives du conditionnement de l'air
Indoor air quality can contribute to the interpretation of daily situations and/or induce numbers of behaviours. Air conditioning can therefore not only allow every-day life affordances, but also exert a control over the users of the built environment. This paper examines several paradoxes relating to the apprehension of our chemical environment will first be examined. Then the main issues of attempts to manipulate behaviours through the qualities of indoor air will be presented : classically when it comes to improving productivity (working spaces) or generating attraction (sensory marketing), but also for recreational (emotional capitalism) or educational (improvement of learning processes) purposes. Finally, the potential of an "ethic of influence" of indoor air qualities in the design and materialization of the built environment will be discussed.
La qualité de l'air intérieur peut participer à l'interprétation de situation quotidiennes et/ou induire un certain nombre de comportements. Le conditionnement de l'air peut donc non seulement permettre des prises sur le réel, mais aussi exercer une emprise sur les usagers du cadre bâti. Cet article examine d'abord plusieurs paradoxes relatifs à l'appréhension de notre environnement chimique. Ensuite seront présentés les enjeux principaux des tentatives de manipulation des comportements à travers les qualités de l'air intérieur : classiquement quand il s'agit d'améliorer la productivité (espaces de travail) ou de générer de l'attraction (marketing sensoriel), mais aussi à des fins récréatives (capitalisme émotionnel) ou encore pédagogiques (amélioration des processus d'apprentissage). Enfin sera discutée la potentialité d'une « éthique de l'emprise » des qualités de l'air intérieur dans la conception et la matérialisation du cadre bâti.
Fichier principal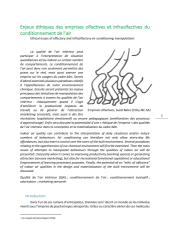 Balez_2019_EnjeuxEthiques_Ambiances.pdf (424.24 Ko)
Télécharger le fichier
Origin : Files produced by the author(s)