PrisMe: a Tangible User Interface for Group Work Regulation
The aim of this experiment was to evaluate a tangible environment called PrisMe (Collective attention led by a Mediated environment) developed during the e-TAC project. The methodology for creating this environment was based on an end-user-centered approach. Its role is to support collective work and foster collaborative learning in an educational context (i.e., primary and secondary school). More specifically, this set of artifacts must promote noise regulation during group activities, facilitate pupils' time management and support classroom management for teachers. The evaluation of PrisMe took place with pupils aged 9 to 10 in a real school context. Pupils worked in groups of 4 and completed mathematics problem-solving activities lasting approximately 20 minutes. At the end of these activities, they were given two user experience questionnaires, the AttrakDiff and the meCUE. The user feedback allowed us to validate a significant number of interactions and brought out points of vigilance for the final development phase. The results of the questionnaires are encouraging and seem to indicate that PrisMe provides a satisfactory user experience to pupils.
L'objectif de cette expérience était d'évaluer un environnement tangible appelé PrisMe (Collective attention led by a Mediated environment) développé au cours du projet e-TAC. La méthodologie de conception de cet environnement était basée sur une approche centrée sur l'utilisateur final. Son rôle est de soutenir le travail collectif et de favoriser l'apprentissage collaboratif dans un contexte éducatif (i.e., école primaire et secondaire). Plus précisément, cet ensemble d'artefacts doit favoriser la régulation du bruit pendant les activités de groupe, faciliter la gestion du temps par les élèves et soutenir la gestion de la classe pour les enseignants. L'évaluation de PrisMe a eu lieu avec des élèves âgés de 9 à 10 ans dans un contexte scolaire réel. Les élèves ont travaillé en groupes de 4 et ont réalisé des activités de résolution de problèmes mathématiques d'une durée d'environ 20 minutes. A la fin de ces activités, ils ont reçu deux questionnaires évaluant l'expérience utilisateur, l'AttrakDiff et le meCUE. Les retours utilisateurs nous ont permis de valider un nombre important d'interactions et ont fait ressortir des points de vigilance pour la phase finale de développement. Les résultats des questionnaires sont encourageants et semblent indiquer que PrisMe offre une expérience utilisateur satisfaisante aux élèves.
Fichier principal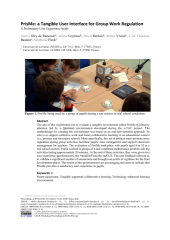 PrisMe_CEURART.pdf (3.97 Mo)
Télécharger le fichier
Origin : Files produced by the author(s)