The openning of ethnographic records in question.
L'ouverture des matériaux de recherche ethnographiques en question.
The Open Research Data movement constitutes an epistemological, legal, ethical and technical challenge for humanities and social sciences. It manifests itself in multiple norms and injunctions vis-à-vis research communities, which struggle to comply with them and to seize the instruments made available to them. PARDOQ project aims to make the complex implications of this movement intelligible for communities working with qualitative (ethnographic) data, through the analysis of the experience of researchers confronted with the tension between sharing and protecting ethnographic records, based on a case study (the interdisciplinary research program Parchemins) and on a survey on researchers practicing ethnography and members of scientific, technical and legal networks supporting research.
Le mouvement d'ouverture des données scientifiques constitue, pour les sciences humaines et sociales (SHS), un défi à la fois épistémologique, juridique, éthique et technique. Il se manifeste par des normes et injonctions multiples vis-à-vis des communautés de recherche, qui peinent à s'y conformer et à se saisir des instruments mis à leur disposition. Le projet PARDOQ vise à rendre intelligibles les implications complexes de ce mouvement pour les communautés travaillant à partir de données qualitatives (ethnographiques), à travers l'analyse de l'expérience de chercheuses et chercheurs confronté.e.s à la tension entre partage et protection des données ethnographiques, en prenant appui d'une part sur une étude de cas (le programme de recherche interdisciplinaire Parchemins) et d'autre part sur une enquête auprès de chercheurs.euses pratiquant l'ethnographie et de membres de réseaux scientifiques, techniques et juridiques d'appui et à la recherche.
Fichier principal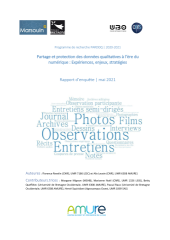 2021_Revelin_Levain_et al_Rapport_PARDOQ.pdf (4.03 Mo)
Télécharger le fichier
Origin : Files produced by the author(s)