Populations locales et stratégies de développement de l'économie agricole à Bonon (centre-ouest ivoirien)
Since the 1990s, the Ivorian economy, mainly based on agriculture, has been in deep decline. In this context of economic crisis, the fall in the costs of the coffee-cocoa binomial, associated with the poor soil, has greatly increased the economic and social vulnerability of agricultural populations. In the sub-prefecture of Bonon, farmers have developed strategies and techniques to stabilize the agricultural economy, the engine of local development. This study therefore aims to understand the different agricultural players and the means they use to support a declining agriculture. Based on a mixed survey (qualitative and quantitative), the results of the study led to the conclusion that the farmers of Bonon are mostly foreigners and non-natives. To stabilize the agricultural economy, farmers organize themselves into associations and cooperatives. Also, to improve the yield of impoverished soils, they use pesticides which unfortunately impact their health with the utter indifference of local authorities.
Depuis les années 1990, l'économie ivoirienne axée principalement sur l'agriculture est en pleine régression. Dans ce contexte de crise économique, la chute des coûts du binôme café-cacao, associée à la pauvreté des sols a fortement augmenté la vulnérabilité économique et sociale des populations agricoles. Dans la sous-préfecture de Bonon, les agriculteurs ont développé des stratégies et techniques afin de stabiliser l'économie agricole, moteur du développement local. Cette étude vise donc à connaître les différents acteurs agricoles et les moyens qu'ils utilisent pour soutenir une agriculture en pleine décadence. S'appuyant sur une enquête mixte (qualitative et quantitative), les résultats de l'étude ont permis d'aboutir à la conclusion selon laquelle, les exploitants agricoles de Bonon sont en majorité des étrangers et des allochtones. Pour la stabilisation de l'économie agricole, les agriculteurs s'organisent en associations et en coopératives. Aussi, pour bonifier le rendement des sols appauvris, ils utilisent des pesticides qui impactent malheureusement leur santé dans l'indifférence la plus totale des autorités locales.
Fichier principal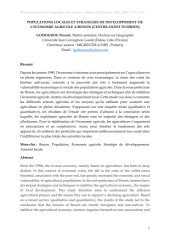 Article_Gohourou Florent.pdf (801.52 Ko)
Télécharger le fichier
Origin : Files produced by the author(s)