The Malagasy monsoon over the Holocene: A review from speleothem d18Oc records
Speleothem stable oxygen isotope records (d18Oc) are among fundamental proxies in paleoclimate reconstruction. Most generally, speleothem d18Oc reflects the d18Ow of the feeding drip water, which in turn is closely linked to the d18Ow of the water seeping into the cave that mainly originates from atmospheric precipitation. The d18O of atmospheric precipitation could in turn reflect the d18O of the vapor source (the "moisture source effect"), the distance of transport from the source (the 'continent effect' resulting from Rayleigh distillation), the amount of precipitation (the 'amount effect'), and the atmospheric temperature during precipitation (the 'temperature effect'). This chain of relationships between various components, from the cave to the atmosphere, could explain the strength of speleothems in recording reliable information about past climate. This paper reviews the potential of speleothem d18Oc from Anjohibe Cave, in NW Madagascar, to record information about its past climate, starting from reporting on the modern cave investigation on speleothem d18Oc, drip water d18Ow and temperature, to understanding the overall monsoonal behavior in the island, which is currently known as the driver of seasonality in Madagascar, mainly in its western part. It will also attempt to review the challenges in the interpretation of the records, that may rely on the uncertainties of radiometric dating and interpretations of the paleo-records that may be different from current environmental and climatic conditions.
Les enregistrements des isotopes stables d'oxygène dans les spéléothèmes (d18Oc) sont parmi les proxys fondamentaux dans la reconstruction du paléoclimat. Plus généralement, le d18Oc reflète la d18Ow de l'eau au goutte-à-goutte, qui est à son tour étroitement liée au d18Ow de l'eau s'infiltrant dans la grotte qui provient principalement des précipitations atmosphériques. Les d18O des précipitations atmosphériques pourraient à leur tour refléter les d18O de la source de vapeur (l 'effet de la source d'humidité), la distance de transport de la source ('l'effet continent' résultant de la distillation de Rayleigh), la quantité de précipitations (l'effet de quantité) et la température atmosphérique pendant les précipitations (l'effet de température). Cette chaîne de relations entre divers entités, de la grotte à l'atmosphère, pourrait expliquer l'avantage des spéléothèmes en tant qu'enregistreur d'informations fiables sur le climat passé. Cet article vise à examiner le potentiel du d18Oc extrait des spéléothèmes de la grotte d'Anjohibe, dans le nord-ouest de Madagascar, pour enregistrer des informations sur son climat passé, à partir de rapports sur l'enquête moderne des grottes sur le d18Oc du carbonate, le d18Ow de l'eau d'infiltration et de sa température, pour comprendre la comportement global du mousson dans l'île, qui est actuellement connue comme le moteur de la saisonnalité à Madagascar, principalement dans sa partie ouest. L'article tentera également de passer en revue les difficultés d'interprétation des enregistrements, qui peuvent reposer sur les incertitudes des datations radiométriques et des interprétations des paléo-enregistrements qui peuvent être différentes des conditions environnementales et climatiques actuelles.
Fichier principal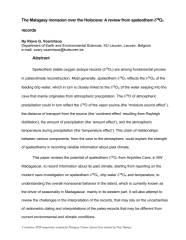 Voarintsoa_2021.pdf (3.83 Mo)
Télécharger le fichier
Origin : Files produced by the author(s)