From adoption to rejection of a digital commons to shift the boundary between state and citizens.
De l'adoption au rejet d'un commun numérique pour transformer la frontière entre état et citoyens
Few studies in political science and the sociology of the State have empirically examined the implementation of a digital commons by public actors. This article seeks to fill this gap, based on the case study of the National Address Database (BAN), launched in 2015. This public database is presented as a digital commons, open to citizen contribution, open access and democratically governed by public, semi-private and civil society actors. How did the adoption of this unusual socio-technical form in the administration take place and what did it shift in the boundary between the State and society? The author's survey consisted of a series of twenty-three interviews, observations of working meetings and analysis of grey literature. The two main findings: (i) explain the adoption by reform entrepreneurs in a context of technological uncertainty; and (ii) show that the form of the digital commons—and in particular shared governance—was abandoned with the arrival of a new political majority that preferred a more sovereign, administrative and pro-market management of the BAN, in the perspective of "government as a platform" (O'Reilly, 2010).
Encore peu de travaux de sciences politiques et de sociologie de l'État se sont penchés empiriquement sur la mise en place de communs numériques par des acteurs publics. Dans cet article, nous cherchons à combler cette aporie en prenant comme cas d'étude la Base Adresse Nationale (BAN). Cette base de données publique lancée en 2015 est présentée comme un commun numérique, ouvert à la contribution citoyenne, libre d'accès et gouverné démocratiquement par des acteurs publics, semi-privés et associatifs. Comment l'adoption de cette forme socio-technique inhabituelle dans l'administration s'opère-t-elle et que vient-elle déplacer à la frontière État/société ? Nous avons mené l'enquête à travers une série de vingt-trois entretiens, des observations de réunions de travail et l'analyse de littérature grise. Nos deux principaux résultats consistent à (1) expliquer l'adoption par l'action d'entrepreneurs de réforme dans un contexte d'incertitude technologique et (2) montrer que la forme du commun numérique – et en particulier la gouvernance partagée – a été abandonnée à l'arrivée d'une nouvelle majorité politique au profit d'une gestion plus souveraine, administrative et pro-marché de la BAN dans la perspective d'un État-plateforme.
Fichier principal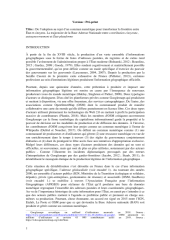 Réseaux - pré-print.pdf (1.16 Mo)
Télécharger le fichier
Origin : Files produced by the author(s)