InSAR Corner Cube at GRSM.
Fichier principal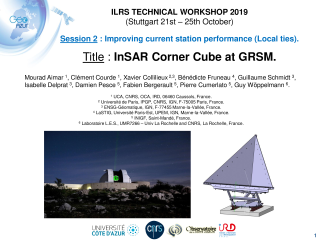 session2_Aimar_presentation.pdf (1.18 Mo)
Télécharger le fichier
Origin : Files produced by the author(s)
Dates and versions
Identifiers
HAL Id :

hal-03114069 , version 1
Cite
M. Aimar, Clément Courde, Xavier Collilieux, Bénédicte Fruneau, Guillaume Schmidt, et al.. InSAR Corner Cube at GRSM..
2019 ILRS Technical Workshop : Laser ranging : To improve economy, performance, and adoption for new applications.
, ILRS, Oct 2019, Stuttgart, Germany.
⟨hal-03114069⟩