Partage émotionnel et inclusion : le rôle médiateur de l'écoute et de l'expression des émotions
Our paper aims to explore the extent to which emotional sharing by leaders can foster employees' sense of belonging in organizations. First, we will look closely into the role of leaders' emotions in developing and enhancing employees' sense of belonging. To answer to our research question, we have chosen to use a qualitative methodology. To this end, 30 semi-structured interviews were conducted with leaders. The results of our research reveal the crucial need to mobilize emotional listening and expression in order to foster the inclusion of all employees through the building of a strong sense of belonging and authenticity. These results also highlight the emergence of a new leadership style: inclusive leadership.
Notre article propose d'étudier dans quelle mesure le partage des émotions par les leaders peut encourager le sentiment d'inclusion des collaborateurs dans les organisations. Ainsi dans un premier temps, nos interrogations porteront sur le rôle des émotions des leaders dans le développement et la valorisation du sentiment d'inclusion pour les collaborateurs. Pour répondre à notre question de recherche, nous avons privilégié une méthodologie qualitative. En ce sens, 30 entretiens semi-directifs ont été menés auprès de leaders. Les résultats de la recherche révèlent l'importance et la nécessité de mobiliser l'écoute et l'expression des émotions pour favoriser l'inclusion de tous les collaborateurs au moyen de l'instauration d'un fort sentiment d'appartenance et d'authenticité. Ces résultats mettent également en perspective l'avènement d'un nouveau style de leadership : le leadership inclusif.
Fichier principal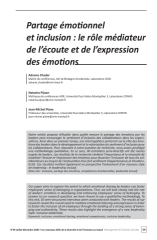 Chader et al..pdf (620.09 Ko)
Télécharger le fichier
Origin : Explicit agreement for this submission