La Comparaison : une catégorie linguistique multiforme
This article illustrates the variety of forms corresponding to the linguistic category of comparison, considered within the frame of general linguistics. The first section is a brief reminder of the basic linguistic concepts necessary to describe comparative utterances in any language. The second section is devoted to the various ways of expressing equality and inequality (i.e. quantitative comparison) in French: numerous constructions are available alongside the canonical 'grammaticalized' structure Pierre est aussi/plus grand que Paul. These constructions (generally ignored by grammar books) turn out to draw material from the various conceptual sources typologists have shown to be used by languages in the world in order to express (in)equality. The third section deals with a specific type of qualitative comparison, named 'valuation', expressed in French by constructions such as valoir mieux que, aimer mieux que, préférer (plutôt) que. Although apparently similar to the canonical structure of inequality, such constructions are shown not to be describable in quantitative terms.
Abordée dans une perspective de linguistique générale, la comparaison se présente comme une catégorie multiforme. Après un bref rappel des concepts de base nécessaires pour décrire un énoncé comparatif, la présente contribution aborde deux points particuliers, illustratifs l'un et l'autre du caractère multiforme de la comparaison linguistique : d'une part, la diversité de schémas grammaticaux permettant d'exprimer la comparaison quantitative d'(in)égalitédiversité qui a été mise en évidence par les études typologiques, et que l'on retrouve en français, par-delà le schéma canonique mentionné dans les grammaires-et, d'autre part, la spécificité d'un type particulier de comparaison qualitative, dite comparaison « valuative », qui, tout en s'exprimant en français à l'aide de schémas proches du schéma canonique de la comparaison d'inégalité, ne se laisse néanmoins pas décrire en termes quantitatifs.
Fichier principal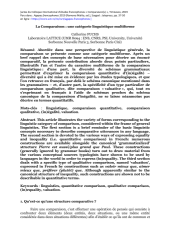 2020_Fuchs_comparaison_Timisoara.pdf (209.61 Ko)
Télécharger le fichier
Origin : Files produced by the author(s)