Latin UNUS and the discourse properties of unity cardinals
This article investigates the discourse behaviour of Latin unus ('one') in the Vulgate, in order to better understand the starting point of the grammaticalization process ultimately leading to an indefinite article. To this end, I will study unity cardinals in general, focusing particularly on English one. Empirically, it will be shown that unus behaved like a unity cardinal in late Latin, without showing any clear sign of ongoing grammaticalization towards an indefinite article. I will try to explain the discursive behaviour of unity cardinals with reference to antipresuppositions, within the framework of the game of same and different. Finally, I will sketch how the results fit within the general picture of the incipient grammaticalization of indefinite articles, by providing an account of so far unexplained scope phenomena.
Le présent article étudie le comportement discursif de unus ('un') dans la Vulgate , pour atteindre une meilleure compréhension du début du processus de grammaticalisation qui mène vers les articles indéfinis. Pour ce faire, j'étudierai les cardinaux d'unité plus en général, dont principalement one en anglais, dans le cadre du jeu de l'identité et de la différence . D'un point de vue empirique, je montrerai que unus se comporte comme un cardinal d'unité, sans montrer des signes clairs d'une grammaticalisation vers un article indéfini. J'essaierai d'expliquer le comportement discursif de cardinaux d'unité par les antiprésuppositions , dans le cadre du jeu de l'identité et de la différence . Pour finir, je fournirai une esquisse de la manière dont les résultats cadrent avec le début de la grammaticalisation des articles indéfinis, en donnant une analyse pour des phénomènes de portée qui étaient jusqu'à maintenant restés sans explication.
Fichier principal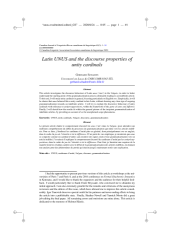 unus.pdf (205.13 Ko)
Télécharger le fichier
Origin : Files produced by the author(s)