Une norme disputée. L'indemnité parlementaire en France (1789-1914)
The creation of a parliamentary allowance occurred in France in the summer of 1789. Embedded in revolutionary projects, it caused embarrassment to many deputies and stirred up recurring debates. Questioned by the "Premier Empire", abrogated by the "monarchie censitaire", reintroduced in 1848, this new norm was paradoxically reinforced by the "Second Empire". The treatment of elected representatives was not self-evident, even after 1870: the persistent refusal to compensate local mandates and the indignation aroused by the increase in the parliamentary allowance at the end of 1906 showed that, for part of French society, the idea that politics was a paid profession was perceived as corruption, even on the eve of the Great War.
La création d'une indemnité législative intervient en France à l'été 1789. Imbriquée dans les projets révolutionnaires, elle suscite la gêne de nombreux députés, et attise des débats récurrents. Remise en cause par le premier Empire, abrogée par la monarchie censitaire, réintroduite en 1848, cette norme nouvelle est paradoxalement confortée par le Second Empire. Le traitement des élus ne va pas de soi, y compris après 1870 : les refus persistants de dédommager les mandats locaux et l'indignation suscitée par l'augmentation de l'indemnité parlementaire fin 1906 montrent que, pour une partie de la société française, l'idée que la politique soit un métier rémunéré est perçue comme une corruption, encore à la veille de la Grande Guerre.
Fichier principal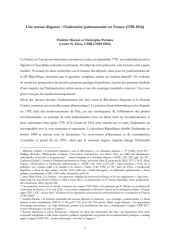 L_indemnité parlementaire en France- g...) pour les Cahiers Jaurès revu cp.pdf (2.46 Mo)
Télécharger le fichier
Origin : Files produced by the author(s)