Metodología de cálculo y cartografía del Índice de Condición Social de los hogares - Aplicación al Área Metropolitana de Bogotá con base en el censo de 2018
This report was produced in the framework of the MODURAL research programme, launched in January 2020. MODURAL is an international and multidisciplinary programme funded by the ANR (French National Research Agency). It focuses on daily mobility practices in Bogota and Lima, emphasising two issues that constitute a challenge in terms of sustainability and social inclusion: sustainable mobility and the specific situation of the popular outskirts. In order to determine the areas where the MODURAL project surveys will be carried out, an attempt was made to identify in both cities the areas with the greatest social disadvantage and the worst conditions of daily mobility. The mobility conditions of the inhabitants were analysed for Bogotá (
See report
) based on the Mobility Survey of 2019 (EMU-2019) and for Lima (
See report
) based on the last Urban Transport Survey conducted in 2012 (ERIBTU-JICA-2012). The objective of this report is to characterise the socio-economic level of households in the Bogotá Metropolitan Area. It presents the Social Condition Index (SCI) that we adopted. This index was already used in several previous studies on Bogotá (Dureau et al., 2007; Salas Vanegas, 2008). This report presents the method of calculating the SCI, the necessary census data and the territorial level we chose for the analysis. It also presents maps that show the distribution of households according to their level of income in the Bogotá Metropolitan Area in 2018. The R program that allows calculating the SCI per block is included in the appendix.
El presente informe fue realizado en el marco del programa de investigación MODURAL, iniciado en enero de 2020. MODURAL es un programa internacional y pluridisciplinario financiado por la ANR (Agencia Nacional de la Investigación de Francia). Está enfocado en las prácticas de movilidad diaria en Bogotá y Lima, haciendo hincapié sobre dos temas que constituyen un reto para la urbe y la inclusión social: la movilidad sostenible y la situación específica de las periferias populares. Para entender estas prácticas y su sostenibilidad, se aplicará encuestas mixtas (cuantitativas y cualitativas) a una muestra de hogares en varias zonas de estudio en las periferias de las dos ciudades. Con este objetivo, se requería identificar tanto en Bogotá como en Lima zonas periféricas que acumulan mayores desventajas sociales y peores condiciones de movilidad diaria. El objetivo de este informe es de presentar la metodología que se utilizó para caracterizar el nivel socioeconómico de los hogares en el Área Metropolitana de Bogotá. Esa caracterización es ilustrativa de la jerarquía socioeconómica dentro del espacio urbano y permite así ubicar las zonas en las que viven hogares con mayor desventaja social. Se expone el método de cálculo del ICS, los datos censales necesarios y el nivel territorial que adoptamos para el análisis. Se presentan también mapas que muestran la distribución de los hogares según su nivel de riqueza en el Área Metropolitana de Bogotá en 2018. En anexo se encuentra el programa R que permite calcular el ICS de los hogares por manzana, programa que se puede utilizar y/o adaptar para otras zonas de estudio en Colombia y también para otros escalones geográficos.
Ce rapport a été réalisé dans le cadre du programme de recherche MODURAL, qui a débuté en janvier 2020. MODURAL est un programme international et multidisciplinaire financé par l'ANR (Agence Nationale de la Recherche). Il porte sur les pratiques quotidiennes de mobilité à Bogotá et à Lima, en met l'accent sur deux questions qui constituent un défi en termes de durabilité et d'inclusion sociale : la mobilité durable et la situation spécifique des périphéries populaires. Afin de déterminer les zones dans lesquelles les enquêtes du projet MODURAL seront menées, nous avons tenté d'identifier dans les deux villes les zones les plus défavorisées socialement et connaissant également les pires conditions de mobilité quotidienne. Les conditions de mobilité des habitants ont été analysées pour Bogotá (
Voir rapport
) sur la base de l'enquête de mobilité de 2019 (EMB-2019) et pour Lima (
Voir le rapport
) sur la base de la dernière enquête sur les transports urbains réalisée en 2012 (ERIBTU-JICA-2012). L'objectif de ce rapport est de caractériser le niveau socio-économique des ménages dans la région métropolitaine de Bogota. L'indice de condition sociale (ICS) que nous avons adopté y est présenté. Cet indice a déjà été utilisé dans plusieurs études antérieures sur Bogotá (Dureau et al., 2007 ; Salas Vanegas, 2008). Ce rapport présente la méthode de calcul de l'ICS, les données de recensement nécessaires et l'échelon territorial que nous avons choisi pour l'analyse. Il contient également des cartes qui montrent la répartition des ménages selon leur niveau de richesse dans la région métropolitaine de Bogotá en 2018. En annexe, se trouve le programme R qui permet de calculer l'ICS par îlot.
Fichier principal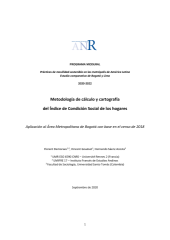 Demoraes_et_al_Calculo_ICS_hogares_Mza_Bogota_2018.pdf (4.43 Mo)
Télécharger le fichier
Origin : Files produced by the author(s)