Between Invisibility and Ubiquity : The Paradoxical Emergence of Political Communication Professionals in Swiss Election Campaigns From the 1940s to the 1980s
Entre invisibilidad y omnipresencia : la paradójica aparición de profesionales de la comunicación política en las campañas electorales suizas de los años 1940 hasta las de 1980
Entre invisibilité et ubiquité : l'émergence paradoxale des professionnels de la communication politique dans les campagnes électorales suisses des années 1940 aux années 1980
The emergence of political communication professionals in the second half of the 20th century in Switzerland is a little known and largely underestimated phenomenon. Swiss politics was long thought of as largely unprofessionalized, particularly before the 1990s. However, the study of the electoral campaigns of the first decades after WWII shows how an initial generation of publicists and pollsters gradually established its legitimacy among political parties, notably by claiming to provide responses to feelings of democratic "malaise." At the same time, in order to stand out from each other, the parties stigmatized their competitors' professionalization, and even "Americanization," while obfuscating their own reliance on different forms of expertise in political communication.
La aparición de profesionales de la comunicación política a partir de la segunda mitad del siglo XX en Suiza es un fenómeno poco conocido y en buena medida subestimado. Durante mucho tiempo la política suiza ha sido considerada como poco profesionalizada, particularmente antes de los años noventa. Sin embargo, el estudio de las campañas electorales de las primeras décadas de la posguerra demuestra cómo la primera generación de publicistas y encuestadores se ha ido forjando progresivamente cierta legitimidad ante los partidos políticos, especialmente cuando afirman aportarle respuestas al sentimiento de « malestar » democrático. Al mismo tiempo, para diferenciarse entre ellos, los partidos han estigmatizado la profesionalización e incluso la « americanización » de sus opositores y han invisibilizado su propia capacidad de recurrir a diferentes formas de pericia en comunicación política.
L'émergence de professionnels de la communication politique depuis la seconde moitié du 20ème siècle en Suisse est un phénomène mal connu et largement sous-estimé. La politique suisse a longtemps été pensée comme peu professionnalisée, en particulier avant les années 1990. L'étude des campagnes électorales des premières décennies de l'après-guerre montre pourtant comment une première génération de publicitaires et sondeurs s'est progressivement forgée une légitimité auprès des partis politiques, notamment en affirmant apporter des réponses à un sentiment de « malaise » démocratique. Parallèlement, pour se démarquer les uns des autres, les partis ont stigmatisé la professionnalisation voire l' « américanisation » de leurs concurrents et ont invisibilisé leur propre recours à différentes formes d'expertise en communication politique.
Fichier principal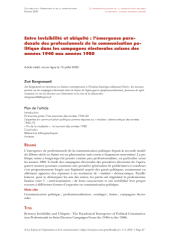 Kergomard_2020_Entre invisibilité et ubiquité.pdf (166.14 Ko)
Télécharger le fichier
Origin : Publisher files allowed on an open archive