Nombre propio y motivación. Una estructuración gradual y bipolar de la categoría
The conventionality of the link with the referent that defines the proper name (Np) has as a consequence that the members of this category do not share common visible features. Faced with this situation, the hypothesis that its internal organization responds to a prototypical structuring has become a recurring component of the descriptions dedicated to the category. However, the description based on a presence/absence use of its characteristics features it does not allow access to its internal logic. Given that the identity of the Np is based on its semantic-functional opposition to the common name (Nc), one advocates resorting to the tension generated by this antagonism to propose a gradual description of the structuring of the category that takes as its starting point the underlying operability of the motivation of the signifier of its members. This gradual, bipolar and one-dimensional approach shows that the Np category has a coherence that overcomes the continuity of the relation it maintains with the Nc at the lexical level and at the discursive level, which invites us to explore the performance of its application to the other levels of analysis that participate in the definition of its prototype.
El carácter convencional del vínculo con el referente que define el nombre propio (Np) tiene como consecuencia que los miembros de esta categoría no comparten rasgos visibles comunes. Frente a tal situación, la hipótesis de que su organización interna responde a una estructuración prototípica se ha convertido en un componente recurrente de las descripciones dedicadas a la categoría. Sin embargo, el cotejo dicotómico en términos de presencia/ausencia con los rasgos que la caracterizan no permite acceder a su lógica interna. Dado que la identidad del Np se sustenta en su oposición semántico-fun-cional al nombre común (Nc), se aboga por recurrir a la tensión generada por este antagonismo para proponer una descripción gradual de la estructuración de la categoría que toma como punto de partida la operatividad subyacente de la motivación del significante de sus miembros. Este enfoque gradual, bipolar y unidimensional pone en evidencia que la categoría Np dispone de una coherencia que supera la continuidad de la relación que mantiene con el Nc en el nivel lexical y en el nivel discursivo, lo que invita a explorar el rendimiento de su aplicación a los otros niveles de análisis que participan en la definición de su prototipo.
Fichier principal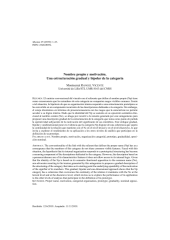 Moenia 25 (2019) Rangel Vicente.pdf (582.45 Ko)
Télécharger le fichier
Origin : Publisher files allowed on an open archive