Effects of increasing concentrations of unamended and gypsum modified bauxite residues on soil microbial community functions and structure – A mesocosm study
Effet de concentrations croissantes en résidus de bauxite modifiés ou non à l'aide de gypse sur les fonctions et la structure de communautés microbiennes - une étude en mésocosmes.
Bauxite residues (BR), commonly named red muds, are the saline-sodic waste produced during the extraction of alumina from bauxite. In this study, four kinds of BR were mixed at increasing concentrations with two soils in a mesososm experiment. Unamended BR from Provence (PRO) and Guinea (GUI) bauxite were selected, and Modified Bauxite Residues from PRO and GUI (MBR-PRO and MBR-GUI) were obtained by gypsum application and repeated leaching, in order to reduce their pH, electrical conductivity (EC) and exchangeable sodium percentage (ESP). Several indicators of microbial community functions and structure (growth of culturable bacteria; enzymatic activities; C-sourced substrates degradation (Biolog®); bacteria and fungi PCR-RFLP fingerprints) were measured after 35 days of incubation. Results showed that PRO residue had stronger negative effects than GUI on all the tested indicators. Residues modified by gypsum addition (MBR-PRO, MBR-GUI) were equally or sometimes less harmful compared to unamended residues. Microbial activities (bacterial growth and enzyme activities) were more inhibited than the diversity of microbial functions (Biolog®), and the structure of bacterial and fungal communities was not affected by increasing concentrations of bauxite residues. EC and ESP were the main factors explaining the inhibition of microbial activities, although the origin of bauxite residue is of great importance too.
Fichier principal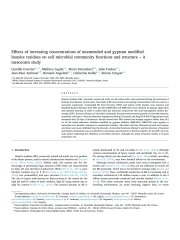 Fourier et al 2020.pdf (2.32 Mo)
Télécharger le fichier
Origin : Files produced by the author(s)