The Public Debate on the Port of Religious Signs by the Representatives of The State in Québec (2007‑2018). Between Agreement and Disagreement
El debate publico sobre el puerto de signos religiosos por los representantes del estado en Quebec (2007‑2018). Entra acuerdo y desacuerdo
Le débat public sur le port de signes religieux par les représentants de l'État au Québec (2007‑2018)
El artículo hace el examen de la evolución del debate apreciado en Quebec desde más de una decena de años sobre el puerto de signos religiosos por los representantes del Estado poniendo en evidencia cómo osciló entre acuerdo y desacuerdo. El análisis muestra que los desplazamientos del debate son determinados por la introducción en su pecho de infra-debates que se refiere en cuestiones subyacentes que modifican los contornos y, a falta de seres plenamente aclarados, lo oscurecen.
The article examines the evolution of the debate held in Quebec for more than ten years on the port of religious symbols by the representatives of the State by highlighting how it oscillated between agreement and disagreement. The analysis shows that the movements of the debate are determined by the introduction within it of infra‑debates on underlying questions which modify it outlines and, for lack of completely clarified beings, confuse it.
L'article fait l'examen de l'évolution du débat tenu au Québec depuis plus d'une  dizaine  d'années sur le port de signes religieux par les représentants de l'État en mettant en évidence comment il a oscillé entre accord et désaccord. L'analyse montre que les déplacements du débat sont déterminés par l'introduction en son sein d'infra-débats portant sur des questions sous jacentes qui en modifient les contours et, à défaut d'être pleinement explicités, l'obscurcissent.
Fichier principal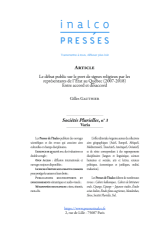 SP3_ART3-GAUTHIER-OK.pdf (1.21 Mo)
Télécharger le fichier
Origin : Explicit agreement for this submission