Les entretiens (de) conseil en formation initiale des futur.e.s enseignant.e.s du premier degré
This article was inspired by Claude Normand's videoed reflections on the challenges, issues and success of advising sessions conducted within a foreign language selflearning framework. The authors compared this type of interview with the interviewing device required after any observation visit to teacher trainees in their primary school class. That was also part of Claude Normand's professional duties, as any teacher trainer in French ESPE. By examining the interactive processes of both genres of counselling interviews, their communicative and speech contexts, and finally the representations at stake, they identify similarities and differences.
Inspirés par les réflexions filmées de Claude Normand sur les enjeux, les difficultés et les réussites de l'entretien de conseil dans le cadre de l'apprentissage des langues en autodirection, les auteurs ont entrepris de comparer cet exercice à un autre type d'entretien, celui qui fait suite à chaque visite aux apprentis professeurs des écoles, souvent nommé « entretien-conseil », et qu'a pratiqué Claude Normand, comme tout formateur dans une ESPE. Par l'examen des cadres interactifs de ces entretiens respectifs, de leurs situations de communication, des genres de discours qui y apparaissent, et enfin des représentations en jeu, ils dégagent des points de convergence et de divergence.
Fichier principal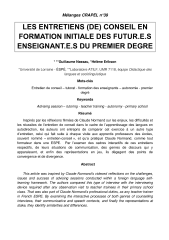 6.artguillaume_helene_dossierhommage_melanges_crapel_39_1.pdf (626.09 Ko)
Télécharger le fichier
Origin : Explicit agreement for this submission