So what is a laboratory?
Mais qu'est-ce donc qu'un laboratoire ?
This paper aims to restore some of our joint observations on what seems to cover the term"laboratory" in the field of urban research. Beyond the institutional level and its administrative and tutelary perimeters, the laboratory convene a plurality : a diversity of groups of people and a multiplicity of points of view. From our own point of view, we have decided to question what could be the main characteristics of a laboratory : in this weaving of disciplines, courses, projects, and thematics. What can create the common of the laboratory ? The laboratory is built by its researchers, it is experimented, it takes shapes that are not necessarily visible in the official representations that are flow charts. The laboratory is made of human relationships, it provides a social experience. The laboratory is also visible through multiple forms of writing. It is then under the shape of a chronicle that we propose to present the various threads that we pulled while trying to sketch a representation of the laboratory.
Au détour du thème de la vie de laboratoire, nous restituons quelques observations sur ce que semble recouvrir le terme " laboratoire " dans la pratique de la recherche urbaine. Au-delà de l'institution et de ses contours administratifs et tutélaires, le laboratoire convoque une pluralité : diversité de collectifs et multiplicité de points de vue. Depuis le nôtre, nous nous sommes interrogées sur ce qui fait sens dans ce tissage de disciplines, de parcours, de projets, de thématiques et surtout, de commun. Le laboratoire " se fait " sans cesse, s'expérimente, s'exprime et se module plus qu'il ne se conforme à un cadre, à des instances, à des organigrammes. Le laboratoire s'inscrit dans des relations humaines, propose une expérience sociale. Le laboratoire apparaît aussi au travers de multiples formes d'écriture. C'est alors sous la forme d'une chronique que nous proposons de présenter les divers fils que nous avons tirés afin de tenter d'en esquisser une représentation.
Fichier principal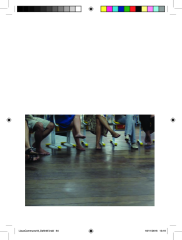 Article_LC18_Bonnet-Brayer.pdf (3.21 Mo)
Télécharger le fichier
Origin : Explicit agreement for this submission