Construction langagière de l'altérité de part et d'autre du fleuve Maroni : frontières, effacements des frontières et mises en frontières
While the notion of a natural boundary applied to rivers is widely used, it is not operational in the Amazon context where mobility and linguistic communities pre-existed the creation of nation-states. Nevertheless, the question of the influence of borders (state border or boundaries perceived by the inhabitants) on language practices and on the conception of oneself and others arises. This article looks at the role of state borders in the design of language varieties, in particular among Maroons in French Guiana and Suriname and shows how, while linguistic variations generally index ethno-cultural identities, the boundaries between language varieties are blurred within verbal interactions in a border urban environment. The article finally shows how, in this context, by micro-adjustments, alignments or misalignments to the language of the interlocutor, language practices build up our relationships with others in differentiation or convergence through the erasing or the making of boundaries.
Si bien la noción de frontera natural aplicada a los ríos se utiliza ampliamente, esta es poco operativa en un contexto amazónico en el que las movilidades y las comunidades lingüísticas existían previamente en los establecimientos de los Estados-nación. Sin embargo, se plantea la cuestión de la influencia de las fronteras (estatales o percibidas por los habitantes) en las prácticas lingüísticas y en la concepción de uno mismo y de los otros. En este artículo se examina el papel de las fronteras estatales en el diseño de las variedades de lenguas en presencia, en particular entre los cimarrones de Guyana y Surinam, y se muestra cómo, mientras que las variaciones lingüísticas suelen indexar identidades etnoculturales, en un entorno urbano fronterizo se observa una borradura de las fronteras entre variedades de lengua en el seno de las interacciones verbales. Finalmente, el artículo muestra cómo, en este contexto, por microajustes, alineaciones o desalineaciones a la palabra del otro, las prácticas lingüísticas construyen en cada momento nuestras relaciones con los otros en la diferenciación o la convergencia gracias a las borraduras de fronteras o los puestos en frontera.
Alors que la notion de frontière naturelle appliquée aux fleuves est largement utilisée, cette dernière est peu opératoire en contexte amazonien où les mobilités et les communautés linguistiques préexistaient aux établissements des Etats-nations. La question de l'influence des frontières (étatiques ou perçues par les habitants) sur les pratiques langagières et sur la conception de soi et d'autrui se pose néanmoins. Cet article se penche ainsi sur le rôle des frontières étatiques sur la conception des variétés de langues en présence, en particulier chez les Marrons en Guyane et au Surinam et montre comment, alors que les variations linguistiques indexent généralement des identités ethnoculturelles, on observe, dans un environnement urbain frontalier, un effacement des frontières entre variétés de langue au sein des interactions verbales. L'article montre finalement comment, dans ce contexte, par micro-ajustements, alignements ou désalignements à la parole de l'autre, les pratiques langagières construisent à chaque instant nos rapports aux autres dans la différenciation ou la convergence grâce à des effacements de frontières ou des mises en frontières.
Fichier principal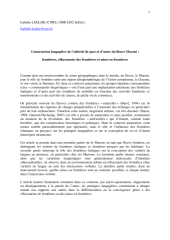 Frontières-HAL-leglise.pdf (1.31 Mo)
Télécharger le fichier
Origin : Files produced by the author(s)