Collecte des déchets ménagers et croissance urbaine dans les communes de Cocody et Yopougon (District d'Abidjan, Côte d'ivoire)
The district of Abidjan is marked by various mutations economic, political, social, cultural, environmental, health and spatial. With the galloping urbanization, the problem of healthiness arises with acuity. Otherwise, urban growth in Abidjan, caused by its demographic explosion, has also resulted in the development of spontaneous housing, environmental degradation and the expansion of unhealthiness. Confronted with the gradual collapse of the state's supervisory systems, the district of Abidjan fails to master the urban dynamics, to satisfy social demand and to solve the problem of collection of household waste. It is in this context that we propose, through a survey of 300 households, to analyze the management of household waste more precisely the collect in the municipalities of Cocody and Yopougon. The results of our investigation reveal a municipal collect "no perceptible". The latter has led most households to the precollect, which turns out to be a discriminatory variable because they are more used in residential than spontaneous housing. Finally, the study reaffirms the role of gender in the performance of household tasks and particularly waste in Ivory coast.
Le district d'Abidjan est marqué par les différentes mutations économique, politique, sociale, culturelle, environnementale, sanitaire et spatiale. Avec l'urbanisation galopante, le problème de la salubrité se pose avec acuité. Par ailleurs, la croissance urbaine d'Abidjan, engendrée par son explosion démographique a aussi pour conséquences le développement de l'habitat spontané, la dégradation de l'environnement et l'expansion de l'insalubrité. Confronté à la faillite progressive des systèmes d'encadrement étatique, le district d'Abidjan ne parvient pas à maîtriser la dynamique urbaine, ni à satisfaire la demande sociale et à régler le problème de la collecte des déchets ménagers. C'est dans ce contexte que nous nous proposons à travers une enquête de 300 ménages, d'analyser la gestion des déchets ménagers plus précisément la collecte dans les communes de Cocody et de Yopougon. Les résultats de notre enquête révèlent une collecte communale « non visible ». Cette dernière a conduit la plupart des ménages vers la précollecte qui s'avère être une variable discriminatoire car plus utilisée dans les habitats résidentiels que spontanés. Enfin, l'étude réaffirme la place du genre dans l'exécution des tâches ménagères et particulièrement des déchets en Côte d'Ivoire.
Fichier principal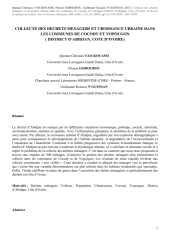 Article_Yao-Kouassi_Gohourou_al.pdf (639.84 Ko)
Télécharger le fichier
Origin : Files produced by the author(s)