Naming political Islam. Lexical repertoire of reformism and its local re-appropriations in the Islamist parties' names
Nombrar al islam político. Repertorio lexical de un reformismo y sus reapropiaciones locales en los nombres de los partidos islámicos
Nommer l'islam politique. Répertoire lexical d'un réformisme et ses réappropriations locales dans les noms de partis islamistes
Based on a comparative study in five countries (Morocco, Algeria, Tunisia, Egypt and Turkey) since the 1970s, this article studies the methods of designation of Islamist parties. While these are perceived as the representatives of religious conservatism, their names draw on lexical repertoires that are related to two forms of reformism, the Islamism of Nahda and nationalist developmentalism. Their names set out the quest for a development model whose authenticity would rely on a dual desire to implement Islamic norms at the national level and to respond to the demands of local populations. The article shows, however, how, in the absence of such an authentic model, four words from the reformist lexical repertoire (justice, development, freedom and renaissance) are used as "correcting principles". We thus contribute to explaining how the pragmatism of political Islam is practiced according to a three-prong logic, legalism, electoral affirmation and political distinction.
Este artículo analiza cómo son construidos los de los partidos islámicos autorizados a participar en las elecciones en cinco países (Marruecos, Algeria, Túnez, Egipto y Turquía). Aunque los partidos islamistas son percibidos como representantes de un conservatismo religioso, sus nombres están asociados a repertorios léxicos construidos por dos corrientes reformistas, la islamista de la Nahda y la desarrollista nacionalista. Estos enuncian la búsqueda de un modelo de desarrollo cuya autenticidad se sustenta en una doble voluntad, la de concretizar normas islámicas a escala nacional, y la de responder a reivindicaciones de poblaciones locales. Sin embargo, el artículo muestra cómo, en ausencia de un tal modelo auténtico, cuatro palabras del repertorio lexical reformista (justicia, desarrollo, libertad y renacimiento) son usadas como « principios correctores ». Contribuimos de esta forma a explicar cómo el pragmatismo del islam político se practica según un tríptico de lógicas, legalista, de afirmación electoral y de distinción política.
Cet article interroge les modalités de nomination des partis islamistes autorisés à participer aux élections dans cinq pays (Maroc, Algérie, Tunisie, Égypte et Turquie). Tandis que ceux-ci sont perçus comme les représentants d'un conservatisme religieux, leurs noms puisent dans des répertoires lexicaux forgés par deux formes de réformisme, l'islamisme de la Nahda et le développementalisme nationaliste. Ces noms énoncent la quête d'un modèle de développement dont l'authenticité s'appuierait sur une double volonté de concrétiser des normes islamiques à l'échelle nationale et de répondre aux revendications des populations locales. L'article montre néanmoins comment, en l'absence d'un tel modèle authentique, quatre mots issus du répertoire lexical réformiste (justice, développement, liberté et renaissance) sont employés comme des « principes correcteurs ». Il contribue ainsi à expliquer comment le pragmatisme de l'islam politique se pratique selon un triptyque de logiques légaliste, d'affirmation électorale et de distinction politique.
Fichier principal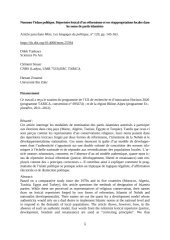 Version_acceptée.pdf (161.29 Ko)
Télécharger le fichier
Origin : Files produced by the author(s)