Qu'est-ce qu'un parti fondé sur une base religieuse ? Interprétations concurrentes d'une catégorie juridique dans le contexte politique égyptien
In Egypt, the 'political parties with a religious basis' are explicitly prohibited by law since 1977. However, this ban has had a negligible impact on political life, because administrative jurisprudence has since long diminished its scope, by reducing the question of the religious basis of a party to that of the confession of its members. Nevertheless, the secular opponents of the Islamists have repeatedly claimed, since the constitutionalization of this ban in January 2014, that it should be interpreted more strictly. This article first recalls how the Islamist and secular camps emerged during the political and constitutional struggles of the 2011–2013 era, before examining the competing interpretations of the notion of 'religious party', such as made by the administrative jurisprudence, by supporters of the ban on Islamist parties, and by the Islamists themselves.
En Égypte, les « partis fondés sur une base religieuse » sont explicitement interdits par la loi depuis 1977. Cette interdiction a cependant une importance négligeable pour la vie politique, puisque la jurisprudence administrative a depuis longtemps amoindri sa portée, en réduisant la question de la base religieuse d'un parti à celle de la confession de ses membres. Néanmoins, les adversaires séculiers des islamistes n'ont cessé de réclamer, depuis la constitutionnalisation de cette interdiction en janvier 2014, que celle-ci soit interprétée plus strictement. Cet article rappelle d'abord comment les camps islamistes et séculiers se sont dessinés au cours des affrontements politiques et constitutionnels de la période 2011–2013, avant de se pencher sur les interprétations concurrentes de la notion de « parti à base religieuse », telles que formulées par la jurisprudence, par les partisans de l'interdiction des partis islamistes, et par les islamistes eux-mêmes.
Fichier principal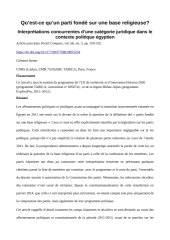 Version_acceptée.pdf (145.65 Ko)
Télécharger le fichier
Origin : Files produced by the author(s)