Echoes of scientific publications in SHS on social networks. The case of Open Edition content on Twitter.
Echoes des publications scientifiques en SHS sur les réseaux sociaux. Le cas des contenus d'Open Édition sur Twitter.
Social networks, spreading throughout society, have also entered the world of research. These tools accelerate the flow of information, and could reach a different audience within the university circuit. At the same time, open knowledge platforms are developing and making scientific knowledge accessible to everyone. Our study focuses on the study of tweets issued between 2013 and 2017 pointing to OpenEdition content. We analyzed the retweets networks as well as the textual content of the tweets by lexicometric study. The results tend to show a conservation of institutional practices with linguistic and disciplinary compartmentalization in both retweets practices and textual content.
Les réseaux sociaux en se diffusant sur l'intégralité de la société sont également entrés dans le monde de la recherche. Ces outils accélèrent la circulation de l'information, et pourraient atteindre une audience différente du circuit universitaire. Parallèlement les plateformes de savoir ouvert se développent et rendent accessible à tout le monde le savoir scientifique. Notre étude se focalise sur l'étude des tweets émis entre 2013 et 2017 pointant vers un contenu d'OpenEdition. Nous avons analysé les réseaux de retweets ainsi que les contenus textuels des tweets par étude lexicométrique. Les résultats tendent à montrer une conservation des pratiques institutionnelles avec un cloisonnement linguistique et disciplinaire tant dans les pratiques de retweets que dans les contenus textuels.
Fichier principal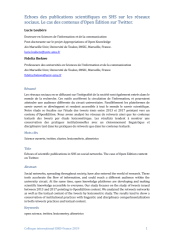 Loubere_Ibekwe_isko2019.pdf (656.35 Ko)
Télécharger le fichier
Origin : Files produced by the author(s)