Knowledge Organization, Data and Algorithms : the new Era of visual Representations
Organisation des connaissances, données et algorithmes : place aux visualisations !
This article shows how visual representations have progressively taken the lead over classical language-based models of knowledge organization (KO). The paper adopts a theoretical and historical perspective and focuses on the consequences of the changes in the volume of data generated by data production on the KO models. Until now, data visualization tools have been used mainly by researchers with expertise in textual data processing or in computational linguistics. But now, these tools are accessible to a greater number of users. Thus, there are new issues at stake for KO, other professions and institutions for gathering data which contribute to definining new standards and KO representations.
L'article montre comment les visualisations ont progressivement pris le pas sur les modèles de représentation des connaissances classiques de nature logocentrée. Se situant dans une approche théorique et historique, cet article s'attache aux conséquences des changements d'échelle liés à la production de données sur les modèles d'organisation des connaissances. Jusqu'alors confinés à un cercle étroit de chercheurs spécialisés en traitement de données textuelles et traitement automatique des langues, les outils de datavisualisation sont désormais accessibles au plus grand nombre. Ce faisant, de nouveaux enjeux se profilent pour l'organisation des connaissances, de nouveaux métiers et institutions de recueil de données émergent qui contribuent à redéfinir les normes, les standards et les modes de représentation des connaissances.
Fichier principal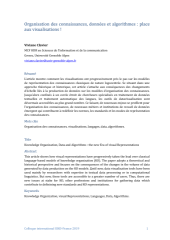 Clavier_isko2019.pdf (416.22 Ko)
Télécharger le fichier
Origin : Files produced by the author(s)