Об интонационных особенностях русского и французского слова и выражения: примеры просодических ошибок франкоговорящих студентов, изучающих русский язык
The primary focus of present article is specific prosodic errors made by Francophone students during their first year of learning Russian within a university program. Our analysis of the difficulties experienced by most beginners shows that there is an intonation distortion of the utterance, resulting from the rhythmic structure of the Russian word. In Russian, the rhythm of the word is determined by stress. So that the wrong realization of the stress (its location within the word and acoustic figuration) might lead not only to distortion of the intonation of the whole utterance, but also of partial or, in some cases, total loss of meaning. Therefore, it is absolutely necessary, before any analysis of intonation of the utterance, to begin with studying the prosodic differences between the French and Russian single word.
В настоящей статье речь пойдёт о специфических просодических ошибках франкоговорящих студентов на первом году изучения русского языка в рамках университетской программы. Наблюдая за трудностями, с которыми сталкиваются начинающие студенты, мы замечаем, что искажение интонации высказывания часто является следствием искажения ритмики слова, которая определяется ударением. Потенциально, неправильное словесное ударение (его расположение и акустическая составляющая) может привести не только к искажению интонации целого высказывания, но и к частичной или полной утрате смысла. Таким образом, прежде чем приступить к анализу интонации высказывания, необходимо спуститься на уровень ниже и изучить просодические различия между французским словом и русским словом.
Fichier principal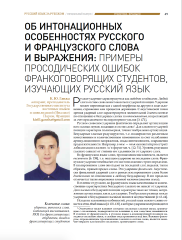 jpg2pdf.pdf (1.41 Mo)
Télécharger le fichier
Origin : Explicit agreement for this submission