Accompagnement médical et communautaire dans un essai de prévention biomédicale : vers une nouvelle forme d'éducation ?
The recent implementation of innovative biomedical preventive approaches to combat the continued high prevalence of HIV among certain populations, has refocused attention on the question of support in the management of treatment adherence. What distinguishes these approaches from classic research on similar themes is that the populations concerned are not HIV positive. The objective of this study was to assess participant and physician satisfaction with medical and community support provided in the ANRS-IPERGAY trial. As part of this trial, individual interviews were conducted with physicians and with HIV-negative participants involved in the trial. Collective interviews and focus groups were also conducted with the participants. A content thematic analysis was performed on the full two corpuses' data, with the aim of investigating discourse themes regarding the support offered as part of the trial. The discourse analysis of the HIV-negative participants and physicians underlined their satisfaction with many aspects of the medical and community support provided during the trial. The results were interpreted with respect to new forms of patient education necessary for the implementation of the medicalized prevention.
Face à une prévalence toujours élevée du VIH dans certaines populations, des moyens innovants de prévention biomédicale ont récemment été mis en place remettant ainsi au cœur du débat la question de l'accompagnement dans la gestion de l'adhésion au traitement. Ce qui distingue ces approches par rapport aux travaux classiques sur ces thématiques renvoie au fait que les populations concernées ne sont pas malades. L'objectif de cette étude est donc d'évaluer la satisfaction liée à l'accompagnement médical et communautaire mis en place dans l'essai ANRS-IPERGAY. Dans le cadre de cet essai, des entretiens individuels ont été conduit auprès des médecins de l'essai et des participants à la recherche. Des entretiens collectifs ainsi que des focus groups ont également été menés auprès des participants. Une analyse thématique de contenu a été réalisée sur les deux corpus avec pour objectif d'investiguer les discours relatifs à l'accompagnement proposé dans l'essai. L'analyse du discours des différents acteurs souligne les points forts de l'évaluation de l'accompagnement à la fois du point de vue des participants ainsi que des médecins. L'interprétation des résultats est faite en lien avec les nouvelles formes d'éducation du patient, nécessaire au déploiement de la prévention médicalisée.
Fichier principal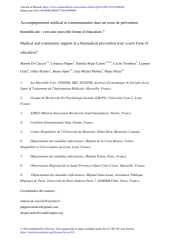 S1269176318300488.pdf (225.43 Ko)
Télécharger le fichier
Origin : Files produced by the author(s)