Annotation guide for the Typannot font, within the Typannot Graphé-project
Guide d'annotation pour les polices de caractères Typannot dans le cadre du projet Typannot-Graphé
Guida all'annotazione per il font Typannot, nell'ambito del progetto Typannot-Graphé
The sign language transcription system "Typannot" is developed by the GestualScript research team. Its purpose is to transcribe the form of all sign languages in the world, taking care for all parameters. The requirement of transcription leads to consider that one must therefore develop a font by parameter. The foundations and characteristics of Typannot fonts are presented first in a deliberately practical manner in order to meet the operational requirements, which are covered by an annotation guide; the insertion and the use of these fonts in the ELAN software, main place used for the transcription of LS, are shown subsequently. This annotation guide was created during a specific state of development of Typannot fonts, and it is obviously going to evolve according to advanced fonts and the virtual keyboard; therefore, the guide will be updated regularly.
Le système de transcription des langues des signes Typannot est développé par l'équipe de recherche GestualScript. Il a pour vocation de transcrire la forme de l'ensemble des langues des signes dans le monde pour tous ses paramètres. L'exigence de la transcription amène à considérer qu'on doit élaborer donc une police de caractère par paramètre. Dans un premier temps, les fondements et les caractéristiques des polices Typannot sont présentés de manière volontairement pratique afin de répondre aux exigences opératoires qui relève d'un guide d'annotation. Puis, dans un deuxième temps, on montre l'insertion et l'utilisation de ces polices de caractères dans le logiciel ELAN, principal lieu utilisés pour la transcription des LS. Ce guide d'annotation a été constitué lors d'un état particulier de développement des polices de caractères Typannot, et il est évidemment amené à évoluer en fonction des avancés des polices de caractère et du clavier virtuel; le guide sera donc mis à jour régulièrement.
Il sistema di trascrizione della lingua dei segni Typannot viene sviluppato dal team di ricerca GestualScript. Il suo scopo è trascrivere la forma di tutte le lingue dei segni nel mondo per tutti i parametri. Il requisito della trascrizione porta a considerare che bisogna quindi sviluppare una font di caratteri per parametro. Inizialmente, le basi e le caratteristiche dei caratteri Typannot sono presentate in modo deliberatamente pratico per soddisfare i requisiti operativi che rientrano in una guida all'annotazione. Quindi, in una seconda fase, viene mostrato l'inserimento e l'uso di questi caratteri nel software ELAN, principale sito utilizzato per la trascrizione di LS. Questa guida all'annotazione è stata creata durante un momento puntuale di sviluppo dei font Typannot e si evolverà ovviamente in base agli avanzamenti dei caratteri e della tastiera virtuale; la guida sarà quindi aggiornata regolarmente.
Fichier principal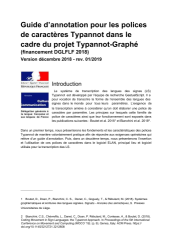 4C 023 2019 lavoro rapp. DGLFLF.pdf (1.92 Mo)
Télécharger le fichier
Origin : Files produced by the author(s)