"The place of « patient engagement » in Health Research: Bibliometrics and bibliographic contribution"
"Contribution bibliographique et bibliométrique à l'étude de la place de l'engagement des patients dans le système de recherche en santé"
The nature of the regimes under which patient participation in care, education and research systems and their governance is organized seems to be one of the key issues for health actors today. This is reflected both in the growth of publications on these topics in international documentary databases (biomedical databases such as PubMed or less specialized databases such as Google Scholar) and in the speeches of policy experts who have been repeating themselves on this subject for at least a decade (as can be seen from an analysis of the EHESP file) observing the rise of a "contemporary" patient (Fainzang, 2006) and the recognition of experimental knowledge (Jouet et al., 2014). In this context, this work proposes a progress report on the progress of this participation based on data from a bibliometric study that has just been conducted by the authors for a dossier for a research journal in information and communication sciences (Las Vergnas, Jouet et Renet, 2017).
La nature des régimes selon lesquels s'organise la participation des patients aux systèmes de soins, d'éducation et de recherche ainsi qu'à leur gouvernance semblent être aujourd'hui une des questions clefs des acteurs de la santé. En témoignent aussi bien la croissance des publications portant sur ces sujets référencées dans les bases documentaires internationales (biomédicales comme PubMed ou moins spécialisées comme Google Scholar) que les discours des experts des politiques qui ne cessent de se répéter à ce propos depuis au moins une décennie (comme cela est visible par une analyse du dossier EHESP : , observant la montée en puissance d'un patient « contemporain » (Fainzang, 2006) et de la reconnaissance des savoirs expérientiels (Jouet et al., 2014). Dans ce contexte, le présent travail propose un point d'étape sur les avancées de cette participation en s'appuyant sur des données d'une étude bibliométrique qui vient d'être conduite par les auteurs pour un dossier destinée à une revue de recherche en sciences de l'information et de la communication (Las Vergnas, Jouet et Renet, 2017).
Fichier principal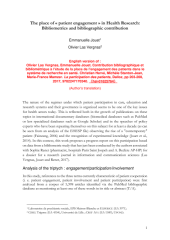 16.Jouet-Las Vergnas-Version-ANGLAISE-finale.pdf (491.46 Ko)
Télécharger le fichier
Origin : Files produced by the author(s)