Douglas Tompkins' aesthetic geography, an eco-philanthropic utopia in Patagonia.
La géographie esthétique de Douglas Tompkins, une utopie éco-philanthropique en
Title : Douglas Tompkins' aesthetic geography, an eco-philanthropic utopia in Patagonia. Patagonia has long been considered a Terra Australis res Nillius: the lands of the south with no master. Since the Spanish Conquista this space has been the object of many collective utopias, those of discoverers, soldiers and missionaries, and individual ones, those of merchants and adventurers and sportsmen, eager for wealth and glory. Towards the end of the 1980s a new idealization of nature, the wilderness, changed Patagonia into a "must" to discover and then to safeguard against the pressure of industrial, agricultural, mining, forestry, hydroelectric, and fisheries exploitation. The eco-philanthropic utopia of the American millionaire Douglas Tompkins finds draws its origins from an expedition to Mount FitzRoy inin 1968 but is part of a North American tradition of the nineteenth century. Convinced of the imperious need to safeguard South American biodiversity, he proposes the "Next Economy", based on the Deep Ecology ideals. He buys land for "the value of beauty and harmony" and shapes his parks for "the good of humanity" (Tompkins, 2012).Through a biogeographic approach, this article shows how an individual project hascreated a new imaginary, both cultural and touristic. The work of an artist defines a new geography, aesthetic, utopian and individualistic, that questions us, beyond the territorial and political issues associated with the conservation and creation of private parks. Books, films and graphic works in favor of ecology and against industrialization and technology, change views actors have on these remote lands. Eco activists and ecotourism actors praise his contribution to tackle socio-environmental issues. The rural world, entrepreneurs and defenders of the spirit of the pioneers, clearers of virgin lands, criticize his opposition to development and lack of respect for their way of life. Nevertheless they sell their land to rich westerners and Chileans who want to posses their own private parks at world's end while hopping that tourism will ensure their future
La Patagonie a longtemps été considérée comme une Terra Australis res Nillius : les terres du sud sans maître. Depuis la Conquista espagnole cet espace a été l'objet de nombreuses utopies, collectives, celles des découvreurs, des militaires et des missionnaires, et individuelles, celles des marchands et des aventuriers et sportifs, avides de richesses et de gloires. Vers la fin des années 1980 une nouvelle idéalisation de la nature, le wilderness, fait de la Patagonie un « must » à découvrir puis à sauvegarder, face à la pression des usages industriels, agricoles, miniers, forestiers, hydro-électriques, et halieutiques. L'utopie éco-philanthropique du milliardaire étasunien Douglas Tompkins puise ses origines dans une expédition au Fitzroy en 1968 mais s'inscrit dans une tradition nord-américaine du XIXe siècle. Convaincue de l'impérieuse nécessité de sauvegarder la biodiversité sud-américaine, il propose une Nouvelle Economie, basée sur les principes de la Deep Ecology. Il achète des terres pour « la valeur de la beauté et de l'harmonie » et façonne ses parcs pour « le bien de l'humanité » (Tompkins, 2012). Par une approche biogéographique cet article montre comment un parcours individuel a instauré un nouvel imaginaire, culturel et touristique. Une oeuvre dessine une nouvelle géographie, esthétique, utopique et individualiste qui fait débat, au-delà des enjeux territoriaux et politiques liés à la conservation et à la création de parcs privés. Ecrits, films et affiches en faveur de l'écologie et contre l'industrialisation et la technologie, changent le regard des acteurs sur ces terres de confins. Les activistes verts et acteurs éco-touristiques louent son apport aux luttes socio-environnementales. Le monde rural, les entrepreneurs et les défenseurs de l'esprit des pionniers, défricheurs de terres vierges, critiquent son opposition au développement et son manque de respect pour leur mode de vie. Mais ils vendent leurs terres aux riches occidentaux et chiliens, qui veulent posséder leurs propres parcs du bout du monde et espère que le tourisme leur assurera leur futur.
Fichier principal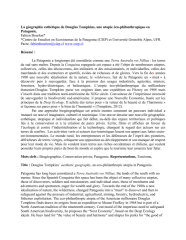 Bourlon utopie de Tompkins Etudes Caribeenes 14mai2017.pdf (6.32 Mo)
Télécharger le fichier
Origin : Files produced by the author(s)