La maîtrise de la langue au collège. Instructions officielles et représentations d'enseignants débutants : convergences, divergences ?
From the beginning of 2000s, the ability in language – writing in particular – is a major objective of college-level. Teachers of all disciplines should rethink the ways of learning to take into account not only the cognitive aspects but also the linguistic dimension that underlies any appropriation of knowledge. The question of receipt by teachers of official documents is therefore essential. This article, based on current research, attempting to update the representations and practices of young teachers of the IUFM on the contribution of different disciplines to teatch language, taking into account the cognitive dimension of writing and types of text products.
Dès le début des années deux mille, la maîtrise de la langue – et de l'écriture en particulier – est annoncée comme un objectif majeur du collège au niveau des instruction officielles. Ces incitations institutionnelles obligent les enseignants de toutes les disciplines à repenser les modalités d'apprentissage pour prendre en compte non seulement les aspects cognitifs mais aussi la dimension langagière qui sous-tend toute appropriation de connaissances. La question de la réception par les enseignants des documents officiels apparaît donc ici essentielle. Notre article, qui s'appuie sur une recherche en cours, tente ainsi de mettre au jour les représentations et les pratiques de jeunes enseignants stagiaires de l'IUFM concernant la contribution des différentes disciplines à la maîtrise de la langue, la prise en compte de la dimension cognitive de l'écriture et les formes de discours et types d'écrits produits.
Fichier principal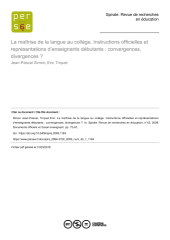 spira_0994-3722_2009_num_43_1_1184.pdf (1.05 Mo)
Télécharger le fichier
Origin : Publisher files allowed on an open archive