Premiers impacts anthropiques dans les Pyrénées centrales : approche multiproxy (archéologie, paléoenvironnement)
For several years, extensive palaeoenvironmental research was carried out within the whole French Pyrenees, which enabled the construction of a detailed analytical frame to approach the evolution of longterm environmental dynamics and anthropic impacts. In some of the pollen records from core drillings in peat bogs or lakes, indications of stalling of herds at high altitudes were dated around 5800-5600 cal.BC However, the oldest archaeological evidence for the presence of Neolithic groups go back to only 5400-5200 cal.BC Thus, in order to detect traces of human presence attributable either to the Second Mesolithic or to the Early Neolithic, a research program started in 2015. This research consisted of a pedestrian survey campaign in the Troumouse Circus (Gèdre, Hautes-Pyrénées) with systematic test pits, indispensable to assess the presence of archaeological vestiges. If numerous vestiges and historic installations were discovered, the oldest periods remain extremely ephemeral. Only one construction dated to the late Neolithic / early Bronze Age testifies of a steady installation at higher altitudes, which is since under excavation.
Depuis plusieurs années, de multiples recherches paléoenvironnementales ont été conduites dans toute la chaîne des Pyrénées françaises qui ont abouti à la construction d'un cadre analytique détaillé permettant d'approcher l'évolution du milieu et des impacts anthropiques sur la longue durée. Dans certains des spectres polliniques obtenus par carottages dans des tourbières ou des lacs d'altitude, des indices de stabulation de troupeaux en haute montagne ont été datés vers 5800-5600 cal.BC Or, les plus anciens indices de présence de groupes néolithiques dans un rayon relativement proche ne datent, au plus tôt, que de 5400-5200 cal.BC Un programme de recherche, intégré aux activités de l'Observatoire Hommes-Milieux Pyrénées, a donc été initié en 2015 visant à détecter les traces de présences humaines que l'on pourrait rattacher soit au Second Mésolithique, soit au Néolithique ancien. Cette recherche s'est traduite par une campagne de prospection pédestre dans le cirque de Troumouse (Gèdre, Hautes-Pyrénées) adossée à des sondages systématiques qui seuls peuvent permettre la découverte de vestiges aussi discrets au sein de milieux si peu anthropisés. Si de nombreux vestiges et aménagements historiques ont été identifiés, les périodes plus anciennes restent extrêmement fugaces. Seul un aménagement de la fin du Néolithique / début de l'âge de Bronze témoigne d'une installation stable en haute altitude, dont la fouille est poursuivie depuis.
Fichier principal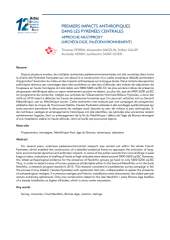 2018_Perrin_etal_opt galop_cor.pdf (1.16 Mo)
Télécharger le fichier
Origin : Explicit agreement for this submission