Localisation directe par un système MIMO massif
We address the problem of localizing sources in multipath channels using massive MIMO systems. Contrary to indirect methods using multilateration, we propose a direct localization method, based on a sparse problem modelling, that exploits the differences in the properties of the line of sight versus multipath components. This method exhibits performances better than those obtained with indirect techniques, or with direct techniques derived for non selective channels, and is robust to situations with blocked direct path.
Nous considérons le problème de localisation de cible pour des canaux multi-trajets par un réseau massif d'antennes. Contrairement aux méthodes indirectes utilisant la multilatération, nous proposons une approche directe basée sur une représentation parcimonieuse du problème, qui exploite les propriétés différentes des trajets directs et indirects. Cette méthode présente des performances supérieures à celles desméthodes indirectes, ou des méthodes directes conçues pour des canaux non sélectifs, et se révèle robuste au blocage des trajets directs.
Fichier principal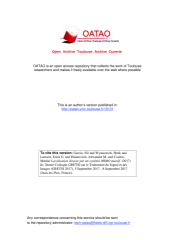 garcia_19131.pdf (158.48 Ko)
Télécharger le fichier
Origin : Files produced by the author(s)