Les particularités du contrôle de gestion dans les pays de l'Europe centrale et orientale : une revue de la littérature
The purpose of this paper is to provide a comprehensive review of empirical research on Performance Management (PM) in former communist countries from Central and Eastern Europe (CEE), the countries being classified following two criteria: country's progress in transition process (post-transition/transition countries) and membership in the Soviet Union (Soviet/non-Soviet countries). The examination of 96 empirical studies shows various stages of development of PM research and practice in the different groups of CEE countries. Therefore, the paper notices some opportunities for advancement of research in this field.
L'objectif de ce papier est de fournir une revue approfondie de la littérature empirique sur le contrôle de gestion dans les pays ex-communistes de l'Europe Centrale et Orientale (PECO), les pays étant classés selon deux critères: le progrès dans le processus de transition (post-transition/transition) et l'appartenance à l'ex-URSS (soviétique/ non-soviétique). L'examen de 96 études empiriques montre divers niveaux de développement de la recherche et des pratiques de contrôle de gestion dans les différents groupes des PECO. Par conséquent, le papier note des opportunités d'avancement de la recherche dans ce domaine.
Fichier principal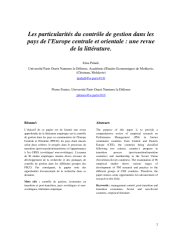 soumission-12-04-2016_23-18-22.pdf (781.93 Ko)
Télécharger le fichier
Origin : Files produced by the author(s)