Book Sections
Year : 2016
New institutional economics and ancient camel drivers
Fichier principal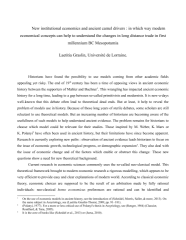 graslin.pdf (186.39 Ko)
Télécharger le fichier
Origin : Files produced by the author(s)
Dates and versions
Identifiers
HAL Id :

hal-01854435 , version 1
Cite
Laetitia Graslin. New institutional economics and ancient camel drivers: in which way modern economical concepts can help to understand the changes in long distance trade in first millennium BC Mesopotamia. Kerstin Dross-Krüpe; Sabine Föllinger; Kai Ruffing.
Antike Wirtschaft und ihre kulturelle Prägung / The cultural shaping of the ancient economy
,
Harrassowitz
, pp.47-62, 2016, Philippika - Altertumskundliche Abhandlungen, 978-3-447-10674-0.
⟨hal-01854435⟩
Collections