CONTRIBUTION À L'ÉVALUATION SOCIO-ÉCONOMIQUE DES RESSOURCES DU LAC TOGO (SUD-TOGO)
The lake Togo, one of most important natural water plan of Togo, was exploited through fishing. The surveys and conversation led by the riparian populations, within the context of this study, highlight the existence of other ecosystem goods and services are provided by the lac for human well-being. It concern, apart from halieutic activities, transportation activities, breeding, fishing products transformation and marketing, and tourism. The socio-economic assessment of those goods and services result in estimation an annual value of about 1 195 022 050 F CFA. The halieutic resources accounted for 84,28 % ; lacustrine transportation activities for 9,84 %, tourism for 5,40 % while fodder resources contribute for 0,40 %. This study which tried to quantify the socio-economic weight of lake Togo, suggests therefore, diversification in the lake Togo's resources exploitation, in sight of a rational and durable management to a certain worry to perpetuate its contribution in human wellbeing's efforts.
Le lac Togo, l'un des plans d'eau naturel les plus importants du Togo, a depuis longtemps été exploité à des fins halieutiques. Il ressort des enquêtes et entretiens menés auprès des populations riveraines, dans le cadre de cette étude, qu'il existe d'autres biens et services environnementaux du lac, et qui sont également mis à profit pour assurer leur bien-être. Il s'agit, à part les activités halieutiques, du transport, de l'élevage, des activités de transformation et de commercialisation des produits de pêche et du tourisme. L'évaluation socio-économique de ces biens et services a abouti à l'estimation d'une valeur annuelle d'environ 1 195 022 050 de francs CFA. Les ressources halieutiques contribuent à 84,28 % de la valeur économique totale estimée ; les activités de transport lacustre viennent loin derrière avec 9,84 %, le tourisme à 5,40 %, tandis que les ressources fourragères représentent 0,40 % de la valeur totale. La présente étude qui a quantifié le poids socio-économique que représente le lac Togo, suggère la diversification de l'exploitation des ressources du lac Togo en vue d'une gestion rationnelle et durable dans un souci de pérenniser sa contribution aux efforts de bien-être des populations.
Fichier principal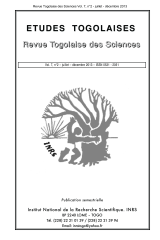 1_Article_Al_et_Kpedenou_2013.pdf (4.93 Mo)
Télécharger le fichier
Origin : Explicit agreement for this submission