Large-scale diversity estimation through surname origin inference
The study of surnames as both linguistic and geographical markers of the past has proven valuable in several research fields spanning from biology and genetics to demography and social mobility. This article builds upon the existing literature to conceive and develop a surname origin classifier based on a data-driven typology. This enables us to explore a methodology to describe large-scale estimates of the relative diversity of social groups, especially when such data is scarcely available. We subsequently analyze the representativeness of surname origins for 15 socio-professional groups in France.
L'étude des noms de famille comme marqueurs linguistique et géographique du passé s'est avérée pertinente dans des contextes variés allant de la biologie et la génétique, à la démographie et la mobilité sociale. Cet article construit à partir d'éléments de la littérature existante un classifieur des origines des noms de famille basé sur une typologie issue des données. Cela nous permet d'explorer une méthodologie pour estimer à grande échelle la diversité relative des groupes sociaux, en particulier lorsque de telles données sont difficilement accessibles. Enfin, nous analysons la représentativité des origines de noms de famille de 15 groupes socio-professionnels en France.
Fichier principal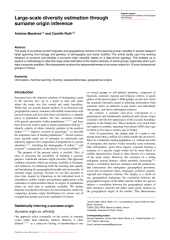 main.pdf (758.57 Ko)
Télécharger le fichier
Origin : Files produced by the author(s)