Human Resources Management and Occupational Health: A Science of Action or Reaction?
Gestión de recursos humanos y salud ocupacional: ¿ciencia de la acción o de la reacción?
Gestion des ressources humaines et santé au travail : science de l'action ou de la réaction ?
Although Human Resources Management (HRM) examines the issue of people at work and their management from the angle of how best to serve an organization's performance, occupational health issues are still a blind spot in its research. Following the lead of Chakor, Abord de Chatillon, and Bachelard (20152) in their review of occupational health and safety research, we attempted to find out how scientific managerial approaches are constructed and how researchers in HRM position themselves with regard to occupational health. A sizeable corpus of texts - which were selected from three sources that were identified as representative of the management sub-discipline that is HRM - were subjected to both thematic content and descriptive statistical analyzes. We demonstrated the gradual empowerment of HRM researchers by building a managerial corpus for workplace health and we identified the salient features that characterize occupational health research in HRM in terms of research objects, methodologies, interdisciplinarity, and stances. This article concludes with a proposed research agenda for HRM scholars working on occupational health.
Aunque la gestión de recursos humanos (GRH) coloca en el centro de sus reflexiones la cuestión del humano en el trabajo y de su gestión con la óptica de servir al desempeño de las organizaciones, las cuestiones de salud ocupacional han sido durante mucho tiempo un punto ciego de sus realizaciones. En la continuidad de la revisión de las investigaciónes en salud y seguridad en el trabajo realizada por Chakor, Abord de Chatillon & Bachelard (20151), que han establecido el lugar de la multidisciplinariedad, en la emergencia de este campo de la GRH, buscamos saber cómo los enfoques en ciencia de la gestión se construyen y que posturas adoptan los investigadores en GRH. Con este fin, una gran cantidad de literatura, seleccionada de tres fuentes identificadas como representativas de la subdisciplina de gestión que es la GRH, ha sido sometida a análisis de contenido temático y análisis estadísticos descriptivos. Mostramos la progresiva autonomización de los investigadores en GRH mediante la construcción de un corpus gerencial sobre la salud ocupacional e identificamos los elementos más destacados que caracterizan esta investigación sobre la salud ocupacional en GRH, en términos de objetos de investigación, metodologías, interdisciplinariedad y posturas. Concluimos con las propuestas de líneas de desarrollo para la investigación en GRH sobre salud ocupacional.
Bien que la Gestion des Ressources Humaines (GRH) place au cœur de ses réflexions la question de l'humain au travail et de sa gestion dans l'optique de servir la performance des organisations, les questions de santé au travail ont longtemps été un point aveugle de ses travaux. Dans la continuité de la revue des recherches en santé et sécurité au travail menée par Chakor, Abord de Chatillon et Bachelard (20151), qui ont établi la place de la pluridisciplinarité dans l'émergence de ce champ en GRH, nous cherchons à savoir comment les approches en sciences de gestion se construisent et quelles postures les chercheurs en GRH adoptent. À cette fin, un large corpus de textes, sélectionnés à partir de trois sources identifiées comme représentatives de la sous-discipline gestionnaire qu'est la GRH, a été soumis à une analyse de contenu thématique et des analyses statistiques descriptives. Nous montrons la progressive autonomisation des chercheurs en GRH par la construction d'un corpus gestionnaire sur la santé au travail et nous identifions les éléments saillants qui caractérisent ces recherches en santé au travail en GRH, en matière d'objets de recherche, de méthodologies, d'interdisciplinarité et de postures. Nous concluons par des propositions d'axes de développement pour les recherches en GRH sur la santé au travail.
Fichier principal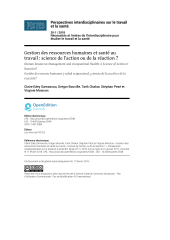 Edey-Gamassou et al., 2018.pdf (474.39 Ko)
Télécharger le fichier
Origin : Publisher files allowed on an open archive