What was published in the seventeenth-century Dutch Republic?
Qu'est-ce qui a été publié dans les Provinces-Unies au XVIIe siècle ?
The seventeenth-century Dutch Republic was a highly literate society. The Dutch produced, and consumed, more printed items per head than any other people in Europe. Books were imported from all the major European centres of production, and exported to markets the Dutch soon came to dominate. In the seventeenth century Amsterdam was already 'the bookshop of the world'. Yet there has never previously been an attempt to estimate the full extent of print production undertaken by the Dutch printing industry. Building on the foundations of the Short Title Catalogue Netherlands (STCN), we undertake such a systematic evaluation here, beginning with classes of print excluded from the terms of reference of the STCN, such as broadsheets, newspapers and printed diplomatic despatches. We then assess how many books will be located in libraries abroad not included in the STCN survey. In a methodological innovation, we also attempt to reconstruct the population of books known to have been printed, but not found in libraries today: 'lost books' identified in auction catalogues, publishers' stock catalogues and newspaper advertisements. Finally we integrate information from archival resources, which helps us offer a survey of the total output of two genres of print extremely susceptible to loss, government ordinances and printing for universities. In total, we postulate that, at a conservative estimate, Dutch printing houses published at least 357,500 editions: over five times the number registered in the STCN. This higher figure should be the starting point for any attempt to examine the economic structures of the print trade, and the impact of print on Dutch society.
Les Provinces-Unies étaient une société hautement alphabétisée au XVIIe siècle. Les Néerlandais ont produit, et utilisé, plus d'objets imprimés par personne que toute autre population en Europe. Des livres furent importés de tous les grands centres de production européens, et exportés vers des marchés que les Néerlandais sont vite arrivés à dominer. Au XVIIe siècle, Amsterdam était déjà le « magasin du monde ». Et pourtant jusqu'à maintenant il n'y a pas eu d'essai d'estimer la pleine étendue de la production imprimée de l'industrie de publication néerlandaise. Partant des bases du Short Title Catalogue Netherlands (STCN), nous entreprenons une telle évaluation systématique, commençant par les catégories d'imprimés exclues par le mandat du STCN, notamment les placards, les journaux et les dépêches diplomatiques imprimés. Nous évaluons ensuite combien de livres se trouveront dans des bibliothèques à l'étranger non incluses dans le recensement du STCN. Par une innovation méthodologique, nous tentons de reconstruire la population de livres que nous savons avoir été imprimés, mais qui ne se trouvent dans aucune bibliothèque aujourd'hui : les « livres perdus » identifiés dans des catalogues de vente aux enchères, catalogues de stock de libraires et annonces dans les journaux. Nous intégrons enfin des informations provenant d'archives, ce qui nous aide à offrir un recensement de la production complète de deux types d'imprimés peu propices à survivre : les ordonnances gouvernementales et les imprimés pour les universités. En tout, nous concluons que, estimation prudente, les maisons d'éditions des Provinces-Unies ont produit au moins 357,500 éditions : plus que cinq fois le nombre répertorié par le STCN. Ce chiffre plus important devrait être le point de départ pour tout essai d'évaluer les structures économiques du commerce de l'imprimé et l'impact de l'imprimé sur la société néerlandaise.
Fichier principal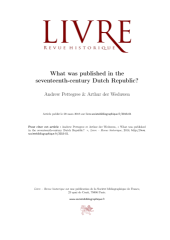 Pettegree & der Weduwen_Livre - 2018 - 01.pdf (4.04 Mo)
Télécharger le fichier
Origin : Publisher files allowed on an open archive