Segmentation hiérarchique faiblement supervisée
Image segmentation is the process of partitioning an image into a set of meaningful regions according to some criteria. Hierarchical segmentation has emerged as a major trend in this regard as it favors the emergence of important regions at different scales. On the other hand, many methods allow us to have prior information on the position of structures of interest in the images. In this paper, we present a versatile hierarchical segmentation method that takes into account any prior spatial information and outputs a hierarchical segmentation that emphasizes the contours or regions of interest while preserving the important structures in the image. An application of this method to the weakly-supervised segmentation problem is presented.
La segmentation d'images est le processus visant à partitionner une image en régions d'intérêt par rapport à des critères donnés. La segmentation hiérarchique s'est révélée être une approche majeure en ce sens, car elle favorise l'émergence des régions importantes à différentes échelles. D'autre part, de nombreuses méthodes nous permettent aujourd'hui d'avoir une information a priori sur la position des structures d'intérêt dans les images. Dans cet article, nous proposons un algorithme versatile de segmentation hiérarchique qui permet de prendre en compte une telle information a priori pour donner une segmentation hiérarchique qui met l'accent sur les régions ou contours d'intérêt tout en préservant les structures importantes dans l'image. Une application au problème de segmentation faiblement supervisée est présentée.
Fichier principal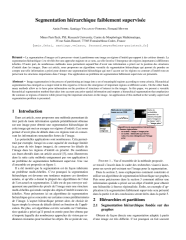 FEHRI_GRESTI17.pdf (942.14 Ko)
Télécharger le fichier
Origin : Files produced by the author(s)