Les effets d'une ludification adaptative sur l'engagement des apprenants
Gamification is increasingly used to address the lack of learner motivation. However, gamification systems generally do not consider learner's preferences for game mechanics. This paper presents a model to adapt the gamification features to the learners according to their player profile. An evaluation of this model shows that adapted game features increase learner engagement, while counter-adapted game features decrease their motivation.
La ludification est une approche de plus en plus utilisée pour répondre au manque de motivation des apprenants. Cependant, chacun a des sensibilités différentes aux mécaniques de jeu, et cela n'est généralement pas pris en compte. Cet article présente un modèle pour adapter les fonctionnalités ludiques selon les profils de joueur des apprenants. Une évaluation de ce modèle a montré que l'utilisation de fonctionnalités ludiques adaptées rend les apprenants plus engagés, tandis que l'utilisation de fonctionnalités ludiques contre-adaptées diminue leur motivation.
Fichier principal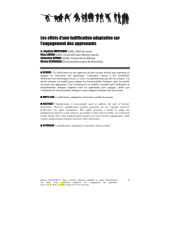 47_Monterrat_v12_BM.pdf (491.59 Ko)
Télécharger le fichier
Origin : Files produced by the author(s)