Un cadre conceptuel pour concevoir le système de mobilité urbaine
Urban mobility poses some challenges for design practice. Mobility components such as vehicles, urban infrastructure, mobility services or other services delivered along a mobility experience are often designed separately. The performance of a global urban mobility system, at a city scale for instance, is therefore parceled out into components' ones that are not integrated from the perspective of a user who interacts with them in a door-to-door journey. This paper starts with relating different perspectives of urban mobility including, in crescendo, the human in the production of a global design solution. Through the examination of design and transport literature as well as practical examples, the paper highlights complexity factors of urban mobility that challenges engineering design. A second contribution is to identify relevant design objects aiming at providing a language for designing urban mobility which are mobility components, travel scenarios, and traveler centered indicators.
La mobilité urbaine pose certains défis à la pratique de la conception. Les composantes de mobilité telles que les véhicules, l'infrastructure urbaine, ou les services qui sont fournis dans le cadre d'une expérience de mobilité sont souvent conçus séparément. La performance globale d'un système de mobilité urbaine, par exemple à l'échelle de la ville, est par conséquent morcelée en plusieurs performances par composante. Ces dernières ne sont pas intégrées dans la perspective d'un utilisateur en interaction avec le tout, dans une mobilité porte à porte. Cet article relie tout d'abord différentes perspectives de mobilité urbaine en incluant, crescendo, l'humain dans la production d'une solution globale de conception. À travers l'examen de la littérature en conception et en transport ainsi que par des exemples pratiques, l'article souligne les facteurs de complexité de la mobilité urbaine qui modifient les frontières de l'ingénierie de la conception. La principale contribution est d'identifier trois types d'objets de conception pertinents, visant à fournir un langage pour concevoir des systèmes de mobilité urbaine : composantes de la mobilité, l'expérience du voyageur et indicateurs axés sur les déplacements.
Fichier principal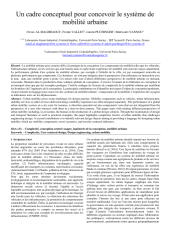 CIGI17_paper_77.pdf (648.6 Ko)
Télécharger le fichier
Origin : Files produced by the author(s)