Formulation analytique de la dynamique de déploiement d'un hexapode spatial
New deals of spatial engineering requires the development of deployable structures as their small volume and their light mass are appreciable advantages during the launch. Moreover, their agility is increased in space. In order to use them for optical applications and to optimize their deployment accuracy and dynamic stability, the deployment dynamics must be controlled. This paper presents a new formulation of a direct dynamic model for predicting with efficiency and reliability hexapod deployment. Using six phenomenological models for the actuators reduces the number of coordinate changes. Furthermore, the tensor notation condenses the equation expressions of the model established with a Lagrangian formulation.
Les nouveaux enjeux de l'activité spatiale nécessitent le développement de structures déployables : leur encombrement réduit et leur faible masse sont des atouts lors du lancement et accroissent l'agilité lors de leur fonctionnement. Pour les applications optiques et dans un souci d'optimisation des performances en terme d'exactitude et de stabilité, la dynamique du déploiement doit être maîtrisée. Ce papier présente une nouvelle formulation d'un modèle dynamique direct dont le but est d'être un outil efficace de prévision du comportement d'un hexapode déployable. Le nombre de changement de coordonnées est réduit grâce à l'utilisation de six modèles phénoménologiques décrivant les actionneurs. De plus, la notation tensorielle condense l'écriture des équations du modèle basé sur une formulation Lagrangienne.
Fichier principal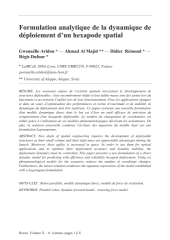 91EZHFM8.pdf (188.1 Ko)
Télécharger le fichier
Origin : Files produced by the author(s)